How We Created an AR Product Packaging Experience in 72 Hours
5 min read
November 2, 2022
While augmented reality packaging experiences receive a lot of media attention for their ability to engage consumers, the idea of getting started with AR for product packaging can be daunting – especially for growing brands with limited marketing budgets and bandwidth.
Enter: Displai. A powerful new augmented reality solution that offers immersive, engaging experiences that are simple and quick to implement from an easy-to-use online platform.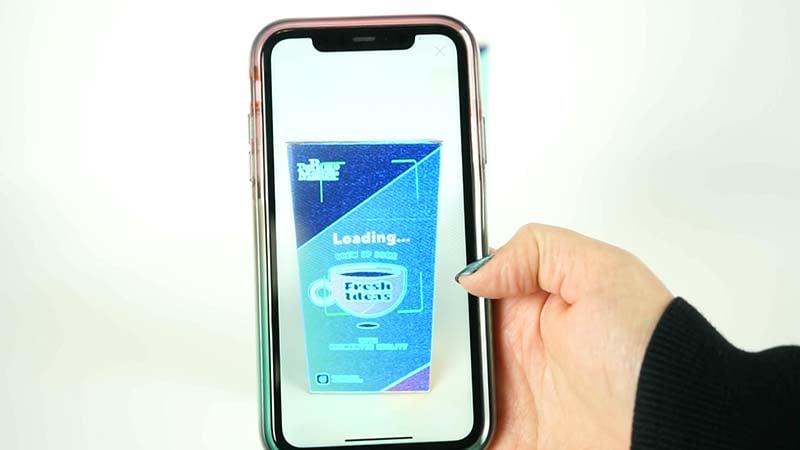 Based in Melbourne, Australia, and serving brands across the globe, Displai makes it easy for creative teams to fuse digital content with physical items, virtually, enabling brands to engage consumers with compelling, immersive experiences.
We recently got in touch with the platform's Founding Partner, Dave Chaffey, to learn more about Displai and try the tool out for ourselves.
"This is the first truly accessible solution for product packaging," said Chaffey. "The platform makes it easy for brands to add virtual experiences to their products, which consumers activate with their smartphones."
"It can be set up and activated across millions of products in days and will even work with the products currently in the supermarkets and sitting on kitchen shelves in homes."
The commercial applications are significant, with use cases in food and beverage, manufacturing, health, and other industries.
Meet Displai: Your Instant AR Pal for Packaging
The Displai platform is intended to reduce the barriers to entry when it comes to building and launching augmented reality experiences for packaging, labels, and print media. It's perfect for startups and growing brands who don't have their own app and want to serve a digitally native audience who are willing to scan a box or beverage to learn more and interact with the brand.
The virtual experience leverages smartphone technology to overlay realistic photo and video experiences onto the printed packaging, appearing to be part of the box itself through the smartphone's screen.
To scan a package, consumers download the Displai app from the app store, and they can get started with their first scan in seconds. Consumers then scan product packaging with their smartphone, activating the augmented reality overlay, which can present information, animate packaging, add clickable links, holograms, and more.
With these features and benefits in mind, we wanted to try out Displai for ourselves to see what's possible. Our mission: To produce an AR product packaging experience in a matter of days, with minimal investment.
Here's How We Did It in 5 Steps
Step 1: Sign Up
Dave was kind enough to extend a trial to The BoxMaker so that we could take the platform for a spin. We could set up a brand account and access our Displai dashboard within a few hours.
Step 2: Create Artwork
Our marketing department quickly created a fun promotional box and leveraged digital print and finishing to produce a small run of the final product within three days. It's important to note here: Displai can be activated for virtually any existing packaging. You do not need to create a new box. An AR experience can be added to your current packaging simply by skipping to step 3.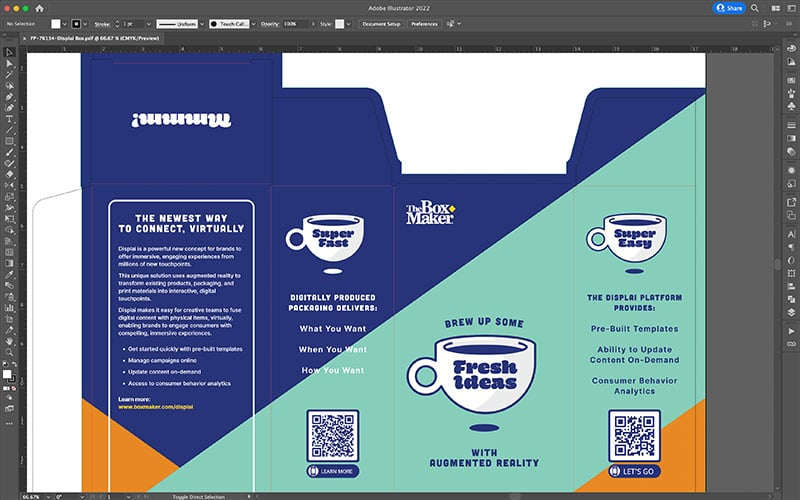 Step 3: Upload Artwork
As our boxes were being produced, we uploaded the artwork from the front panel of our box to the Displai dashboard. After receiving an upload, the Displai team needs up to 72 hours (often less) to add it to their database, activate its ability to scan, and enable content editing from the Displai dashboard.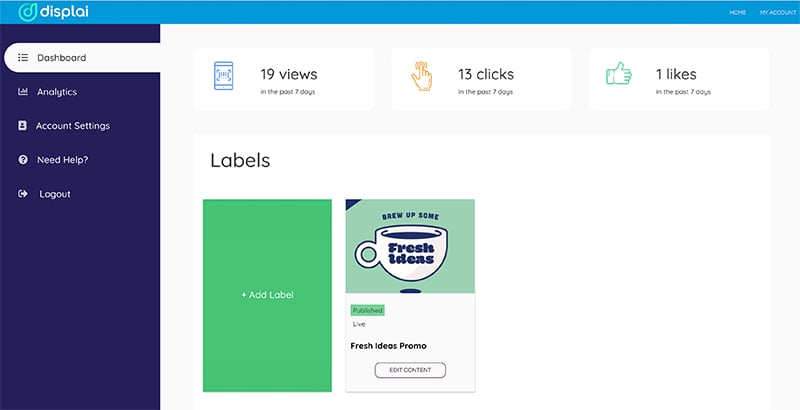 Step 4: Create and Add Content
Using our iPhone, a few items from around the office, and an "enough to be dangerous" working knowledge of Adobe® Premier Pro, our creative team produced a quick video and call-to-action in the same dimensions as the front of our box. The .mp4 video file was then uploaded to the Displai dashboard using one of the pre-built content templates provided by the platform.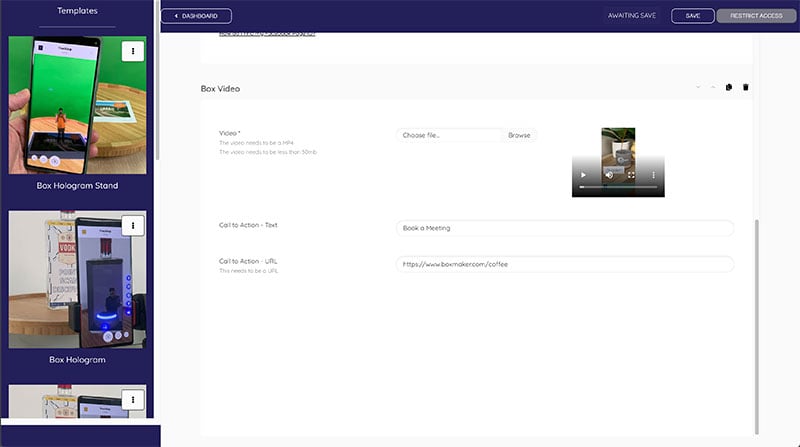 This is where the magic really begins.
Step 5: Go Live!
As soon as your content is uploaded and you've got your Displai template set up just how you want it, you can publish your experience and it's live in a matter of minutes. Our boxes were ready in three days, and as soon as we received them, we were able to scan the front with the Displai app and see our AR experience in action.
How Does Displai Work?
While Dave understandably won't give us the secret sauce, what we can tell you is that everything that is needed to enable the scanning capabilities of your packaging takes place on the Displai team's end. This is a powerful concept because it means that the ability to scan each box does not rely on embedding anything into the print. As mentioned earlier, this means that brands can leverage Displai to launch AR campaigns for their existing packaging, even if it's already out in the marketplace.
Remember that the most successful AR campaigns have a clear call-to-action for in-store audiences. So, best practices are to integrate language and graphics calling attention to your box's scan-ability with the Displai app, either on the box itself, on your retail display, or both.

Augmented reality campaigns are also fueled by social sharing, so Displai makes it easy for consumers to snap a photo of their scan and share it directly from the app.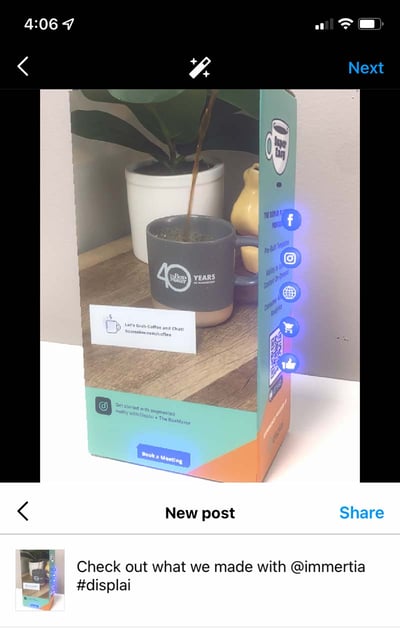 You also want to keep consumers coming back. With Displai, you can switch out your templates or change the content at any time. Publishing your changes takes only minutes to be recognized by the system and new scans will immediately reflect your changes.
Where Can I Learn More?
Brands motivated to implement augmented reality quickly can request a consultation from The BoxMaker's trained Packaging Advisors. We'd love to hear about your next project and how we can help you bring your packaging to life.
How to Stand Out On and Off Shelves with Connected Packaging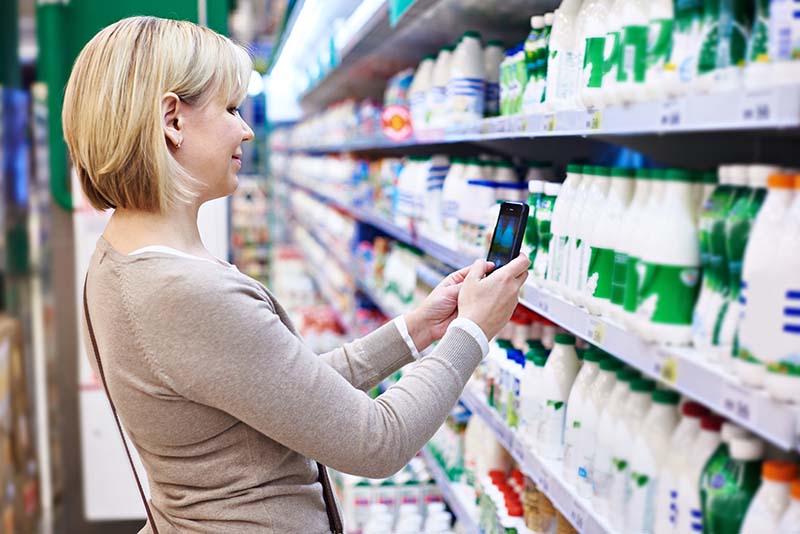 How to Stand Out On and Off Shelves with Connected Packaging
Learn how connected packaging can help your products stand out on shelves and keep that connection w …
Read Now
5 Ways to Leverage ChatGPT to Improve Packaging Design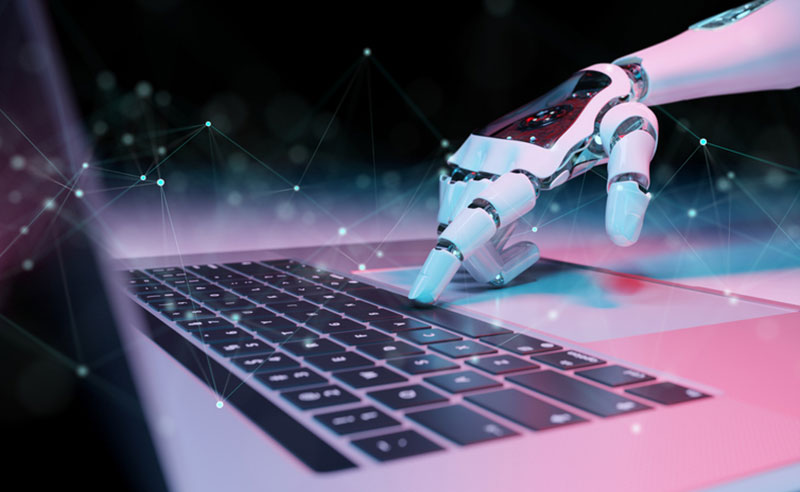 5 Ways to Leverage ChatGPT to Improve Packaging Design
Learn how to leverage AI-powered tools to efficiently generate innovative ideas, improve content cre …
Read Now
3 Ways to Differentiate Your Product Packaging with Digital Print in 2022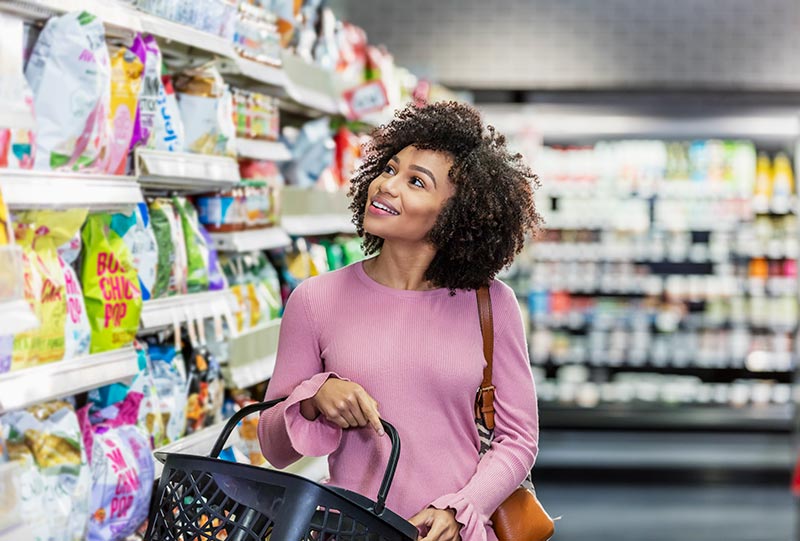 3 Ways to Differentiate Your Product Packaging with Digital Print in 2022
Satisfy consumer demands and meet supply chain challenges with these three ways to differentiate you …
Read Now