Turn Your Supply Chain Into a Competitive Advantage
Optimize Your Packaging Supply Chain with Digital Print & Production
Learn how to transform your supply chain, enhance efficiencies, and lower operational costs with digitally printed and finished packaging.
Chapter I
What's the Deal with Digital?
Digital print is a direct printing process, where ink is applied straight onto the substrate. The signage and photo printing industries were early pioneers of this technology, which has since been widely adapted by many other print-on-demand industries. Publishing, display, direct mail, and marketing collateral are all commonly printed using digital technologies today. When it comes to packaging, digital differs from conventional print methods such as flexography or litho lamination.

These methods utilize print plates and a series of cylinders to transfer the image onto the board or material as it passes through the press. Digital requires no print plates and applies all inks to the board simultaneously to create the printed image.

Brands are still adopting this relatively new and rapidly advancing print method that is now available for corrugated boxes, retail displays, product labels, and other packaging applications. We have reached a tipping point where companies are coming to understand that digital print delivers benefits to their brand, supply chain, and consumer – some of which conventional print methods simply can't.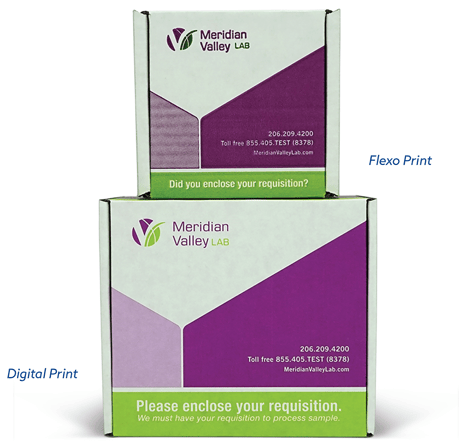 We will explore how digitally printed packaging empowers brands to order what they want, when they want, and how they want, streamlining the supply chain to meet the demands of the modern product lifecycle.
Get The Guide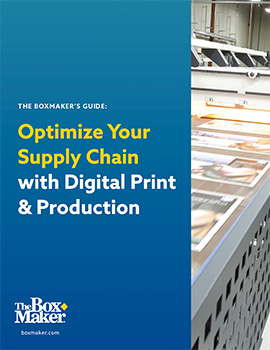 Chapter II
The Modern Product Lifecycle
Retail shelves and online marketplaces are seeing more SKUs than ever, and product lifecycles are shrinking with each passing year. Compounding the situation are the blossoming number of products and product variants entering the marketplace. According to a Nielsen survey of CPGs, in 2015 60,000 new SKUs were introduced to the marketplace in Europe. Of those, only 55% made it to 26 weeks, and only 24% remained after one year.1
How are brands able to support the increasing demand for new and differentiated products with packaging to match? With conventional print methods it's not so easy, but with digital print, brands can now achieve a nimble and responsive supply chain.
What is the Product Lifecycle?
Every product introduced to market experiences a product lifecycle that involves four progressive stages: introduction, growth, maturity, and decline.2 The speed at which a product moves through these stages depends on many factors. Depending on a product's current stage, the sales volume will fluctuate based on demand and market saturation.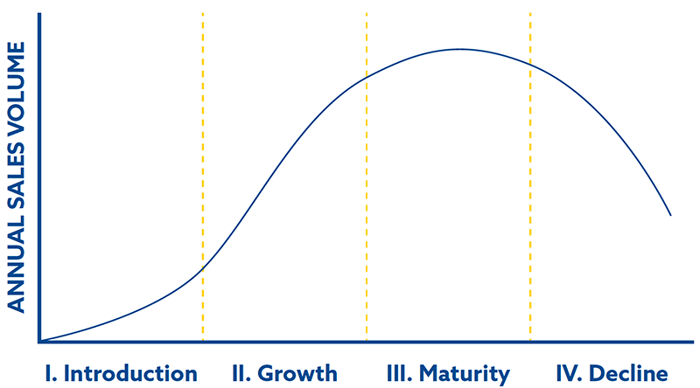 1 Source: "Looking to Achieve New Product Success? Listen to Your Consumers." Nielsen, June 2015.
2 Source: "Product lifecycle." https://en.wikipedia.org/wiki/Product_lifecycle. Wikipedia, 2019.
Where Does Packaging Fit In?
The volume of packaging that a company has available to them must support the sales volume fluctuations of the product over time. However, this is not a case of "the more the merrier." Surplus packaging inventory ties up your cash flow and costs money to warehouse while it goes unused. It may even become obsolete before it has the chance to be put to use, ending up in the recycle or landfill as wasted cash.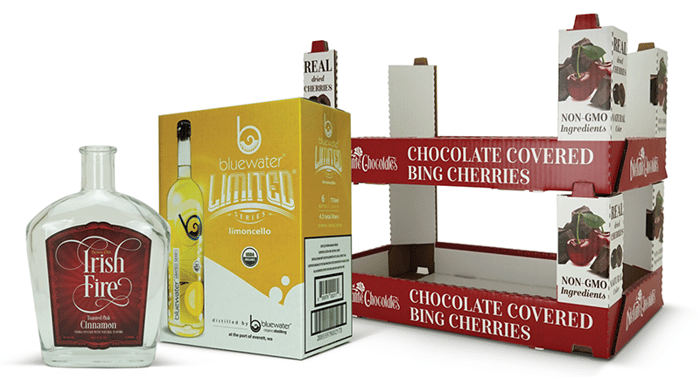 Additionally, using the same product packaging month after month during the product lifecycle creates missed marketing opportunities that leave money on the table by failing to maximize sales. During the course of a year, many events take place that brands have the opportunity to participate in through packaging – major holidays, sporting events, charity drives, pop culture moments, and more. All of these cultural touchstones provide brands the chance to be a part of the conversation rather than sitting on the sidelines. As one of your brand's key pieces of owned media, packaging should assist in this endeavor.
The Challenge with Conventional Packaging Solutions
Conventional print methods struggle to offer brands the flexible and agile solutions they need to meet these varying packaging demands with great effectiveness. Traditional manufacturing processes are intended for mass production and require high volume minimum orders of identical boxes, labels, or retail displays to be cost-effective for the brand and the manufacturer. This can create two issues:
A brand is forced to purchase at a higher packaging volume than they need, resulting in unused inventory, warehousing, and cash flow restriction.
A brand is limited in the number of artwork revisions they can accomplish throughout the product lifecycle based on traditional lead times and the requirement to purchase new print plates with each packaging revision.
Both of these issues lead to obsolescence, and the chance that brands will end up literally throwing money away as their no longer relevant packaging overstock is sent to recycle or the landfill.
Chapter III
The Digital Print Solution
Digital print technology allows brands to manage product lifecycles and their packaging needs more effectively. By being able to print what they want, when they want, and how they want, brands can control run volume, replenishment frequency, and graphic iterations with ease, better aligning their supply chain to their marketing efforts and sales results.
What does this look like in a practical application?
The Fictional Fruit Co. is launching four new jam flavors this year. For the initial launch, the company orders labels for each of their jam products in identical quantities. Based on historical data, the company projects that this supply will provide them with enough labeled product for the first 8-12 weeks of sales.

After the first month, two of the jams are flying off the shelf – selling at twice the rate of the other flavors. If the company was relying on conventional print methods to replenish their label order, they would be limited in their ability to address their current situation. They may be forced or order at a higher volume than they truly need, and due to extended lead times, they would have to estimate their usage based on projected sales volumes.
However, because they have chosen to go with digital print, when Fictional Fruit Co. places their next label order, they can adjust their quantities per SKU based on their actual sales. They can also place their replenishment order sooner to account for the depleting inventory of the two leading jams – no waiting on long lead times or the need to hit a minimum order quantity.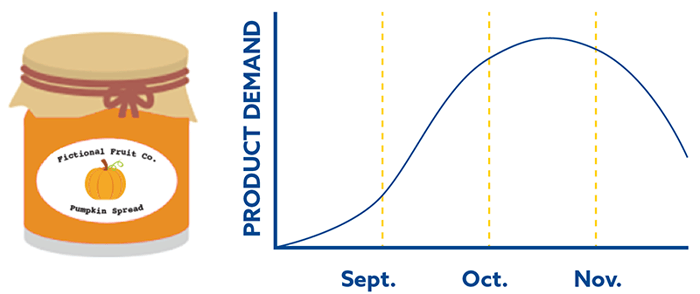 In September, the company is introducing a seasonal pumpkin spread into the marketplace for twelve weeks. Unsure of how their new product will perform, The Fictional Fruit Co. is able to place a conservative initial order of digitally printed labels. Promotion of the new product is successful, and sales take off. As the demand for re-orders increases, The Fictional Fruit Co. is able to quickly order more labels and get their second product delivery to market in time to replenish store shelves. As the season comes to a close and demand for pumpkin products wanes, The Fictional Fruit Co. is able to place their final label replenishment order at a volume that will carry them to the end of their product lifecycle, without leaving them with unused inventory to store or toss (losing money either way).
As sales progress and the Fictional Fruit Co. expands into new markets, the company can continue to leverage their sales data and the power of digital to respond to the market and manage each product's lifecycle with increasing effectiveness, accuracy, and control.
When Does it Make Financial Sense to Print Digital?
Conventional print runs require high minimum order volumes to overcome significant initiation and production costs that include tooling (print plates and cutting dies), machine setup time, and material waste. Litho lamination might need to run hundreds of sheets of corrugated material through the press and laminator before the machines are correctly calibrated and ready to run your packaging order accurately. Once the machines are running, a high volume of identical units are produced.
Digital print, on the other hand, eliminates or greatly reduces many of these initiation costs and has a much lower barrier to entry, especially for low to mid-volume print runs. The price per unit is more consistent throughout the print run than with conventional print methods, and the end result can produce as many artwork variations as a brand desires within the same run.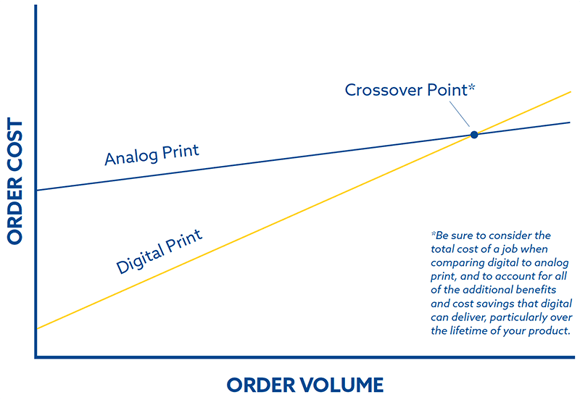 As the technology for digitally printed and finished packaging improves year after year, the "crossover point" at which conventional print becomes more cost effective than digital print gets pushed further out. Today's digital corrugated presses are able to process such large order volumes that it's rare that comparable conventional print is less costly.
Chapter IV
Digital + Supply Chain: A Paradigm Shift
Traditionally, packaging purchases are approached with the goal of buying an individual print run at the lowest PO cost. With all that digital delivers, buyers and supply chain managers can shift their mindset. Today, packaging purchases can be thought of in the context of product lifecycle management where smart buyers have the opportunity to impact customer profit and loss.
The Supply Chain Benefits of Digital Print
A nimble supply chain makes better use of assets and minimizes risks. Digital print is poised to deliver these advantages to packaging by optimizing replenishment cycles and order volumes.
With lower minimum order quantities, brands can reduce or eliminate their warehoused packaging stock and enjoy an agile, more responsive supply chain. Compared to conventional print, digital print jobs can be refreshed many more times throughout the product lifecycle, allowing for more accurate order volumes based on actual sales and more relevant on-pack messaging, further boosting sales.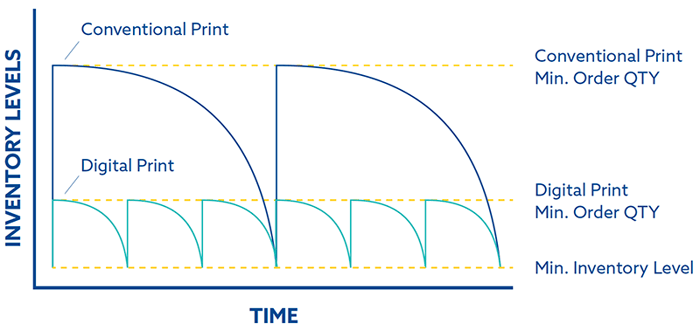 Although digital print receives frequent praise for its ability to handle low- and mid-volume order runs, keep in mind that today's printing and finishing technologies have reached a point in quality and speed that allows digital to address orders of any size.

Chapter V
The Digital Print Workflow
Digital print and finishing systems for packaging also deliver opportunities to optimize the production workflow, further improving the supply chain. Conventional print methods rely primarily on analog pre-press, setup, and production techniques. Very little of the process has been digitized, and because of this there is increased margin for error between swatch tests, printed proofs, and the final packaging product.

With digital print, advanced digital workflows take your art file from PDF to press with little if any manual processes. Electronic proof approvals are highly accurate, and if you do receive a printed proof it is an exact representation of what your final packaging product will look like because it is produced in the exact way that your production run will be.
The digital print workflow is faster than that of conventional print and can deliver your product to market with more speed and all the added benefits that come with this modern technique.
Chapter VI
Digital Printing & Finishing Technologies
Meet the HP PageWide C500 Press
Digital printing presses for corrugated have been commercially available on the market for over a decade. In that timespan, this technology has rapidly advanced from single sheet-fed printers to presses capable of printing full pallets of work in a short amount of time. The next game-changing iteration of presses are hitting the market today, chief among them the HP PageWide C500 Press.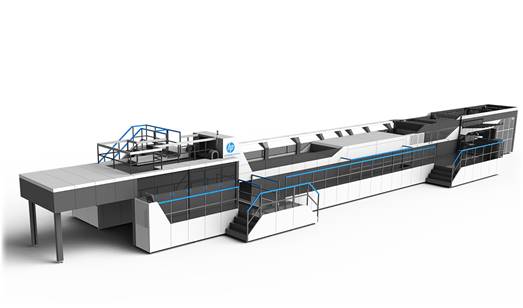 From basic shipping boxes to premium, high-impact graphics on coated and uncoated stock — the C500 is a revolutionary press designed to produce top-quality digitally printed packaging that meets the demands of today's consumers at scale. Leading the way in innovation, the difference between the C500 digital press and other digital presses on the market is staggering to say the least. Here are three key benefits of the C500:
Offset-Quality Print: As an alternative to conventional print methods, the C500 press delivers a print quality that is comparable to litho-lamination and comes with all the benefits of digital. The press delivers consistent offset quality direct-to-board printing combined with high-impact, vibrant graphics that preserve even the finest details. Other C500 print hallmarks include sharp text and barcodes, smooth tone transitions, and vivid colors.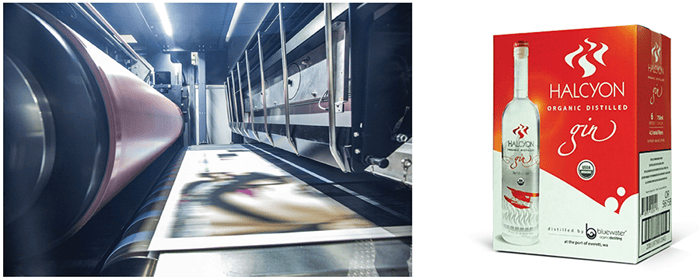 True Water-Based Inks for Food Safety: Nearly 50 percent of corrugated packaging is used by the food and beverage industry. While most digital presses use UV-cured inks, one of the unique benefits of the C500 press is that it uses odorless, True Water-Based Inks that are completely free of UV-reactive chemistries, complying with even the most stringent global food safety regulations.
As a result, these inks enable food-safe printing for both primary and secondary corrugated packaging, without the need for an additional barrier to prevent ink migration*. When it comes to sensitive applications such as food and beverage, health and beauty, pet, and children's products, the C500 press offers peace of mind for brands that want to ensure the highest safety standards for their customers.
Digital Flexibility for Mainstream Production: Thanks to the flexibility of digital print, brands have more control over their packaging than ever before. The C500 allows brands to better align ongoing marketing efforts with their packaging to create more relevant campaigns in a shorter timeframe, at scale. The BoxMaker installed an HP PageWide C500 Press in 2018, the first of its kind on the West Coast and the latest press addition to our already robust digital print and production center for corrugated packaging and display.
Digital Finishing: CAD and Laser Advancements
Digital isn't just for print. Digital CAD tables and emerging laser technologies deliver an automated die-less finishing system for packaging and point-of-purchase displays, helping print buyers avoid the need to purchase cutting dies.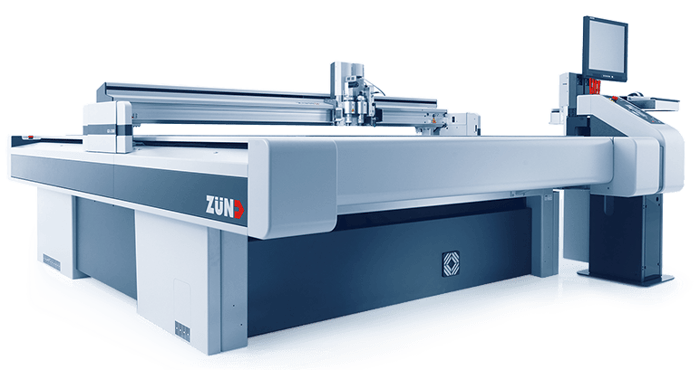 Not only does this technology save brands money and contribute to low minimum order quantities, but it frees them to experiment with shape from run to run, or even unit to unit.
Spotlight on Security: Track-and-Trace with Digital Print
Digital print makes it easier than ever to print a unique identifier on each individual unit of packaging which can be scanned and tracked throughout the supply chain. These identifiers can be visible or imperceptible to the human eye, making it more difficult for counterfeiters to release copycat products into the market.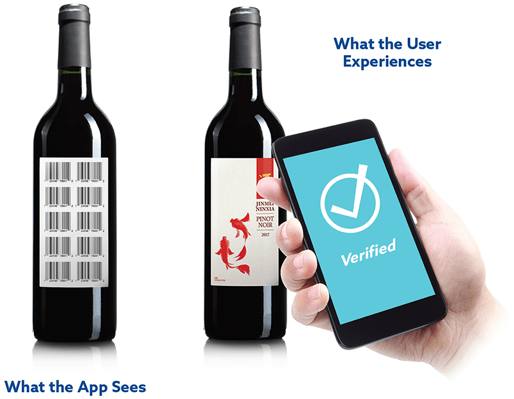 These digital watermarks can also be used to deliver unique customer experiences and can be dynamically updated to connect to new content as frequently as the brand desires. How can this make an impact on supply chain? Digitized coupons can make obsolete packs still in inventory with last month's promotion printed on the label a thing of the past. Digital watermarking can also relieve pressure when it comes to the limited amount of real estate available for print on each pack, freeing up that space for attractive design and clear messaging by moving the additional content to a digital experience.
Chapter VII
Getting Started with Digitally Printed Packaging
Scale Each Success
The best way to get started with digital print for packaging is to identify a product where the benefits of digital will deliver value to your brand and start there. Don't try to convert the majority of your packaging line over to this new technology all at once. Begin with one project, experience the simplified and accelerated process of digital print, and deliver a win to your team. As you create buy-in across your company, you're ready to scale up and start reaping the benefits of digital across your packaging purchases.
The BoxMaker: A Digital Print Pioneer
The BoxMaker was an early adopter of digital print and finishing for corrugated packaging, display, and labels. For almost ten years we have consistently made investments in this technology, training our people, and educating our clients on the benefits of digital to the packaging supply chain. Today, we operate the Pacific Northwest's largest capacity production center for digitally printed and finished packaging and display.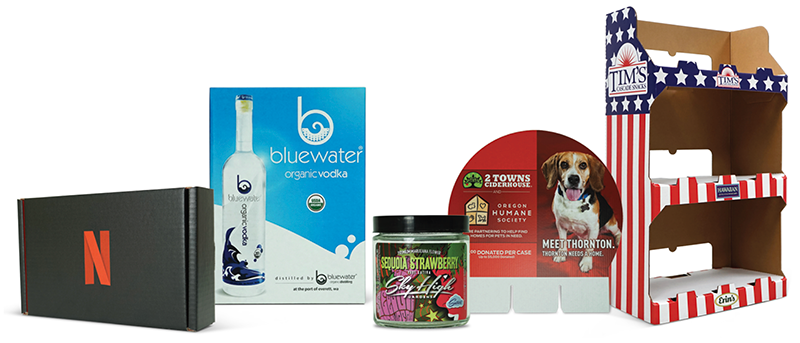 Serving the Pacific Northwest and Beyond
In addition to being your local expert, The BoxMaker is also a founding member of Digital Pack, the world's leading digital print corrugated supplier network.

Through Digital Pack, The BoxMaker is able to coordinate order production of any size for brands with national or international reach. Digital Pack members are each equipped with HP digital print technology, delivering multi-regional assurance of supply, confidence, and peace of mind with our performance through HP Thermal Inkjet technology, software, and water-based inks.
Come See Digital in Action
If you are ready to explore the benefits of digital print for your brand in detail, The BoxMaker invites you to join us on a tour of our manufacturing headquarters, located just outside of Seattle, Washington. Our digital production facility features the HP PageWide C500 Press, two HP Scitex flatbed presses, an HP Indigo 6800 web press, and a fleet of digital CAD tables for die-less finishing.

Schedule a consultation with one of our experienced Packaging Advisors to get started.