Custom printed labels for packaging are one of the best ways to set your product and brand apart — nearly 70% of purchasing decisions are made based upon a label's visual appeal.
The BoxMaker can create the best custom product labels for your needs, including pressure-sensitive and self-adhesive solutions that save time and money.
The BoxMaker manufactures digitally printed pressure-sensitive labels for packaging. Digital printing offers a wide color gamut for outstanding results without the need for print plates, proofing charges, or overruns.
Why Choose The BoxMaker?
Short Lead Time: Your labels ship in days, not weeks.
Print Quality: Digital print delivers exceptional print quality and a wide variety of creative possibilities.
Ready to Scale: We can serve your business as you grow, helping optimize inventory and ensuring you have what you need, when you need it.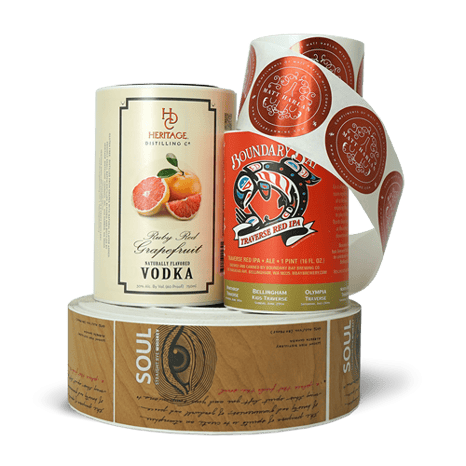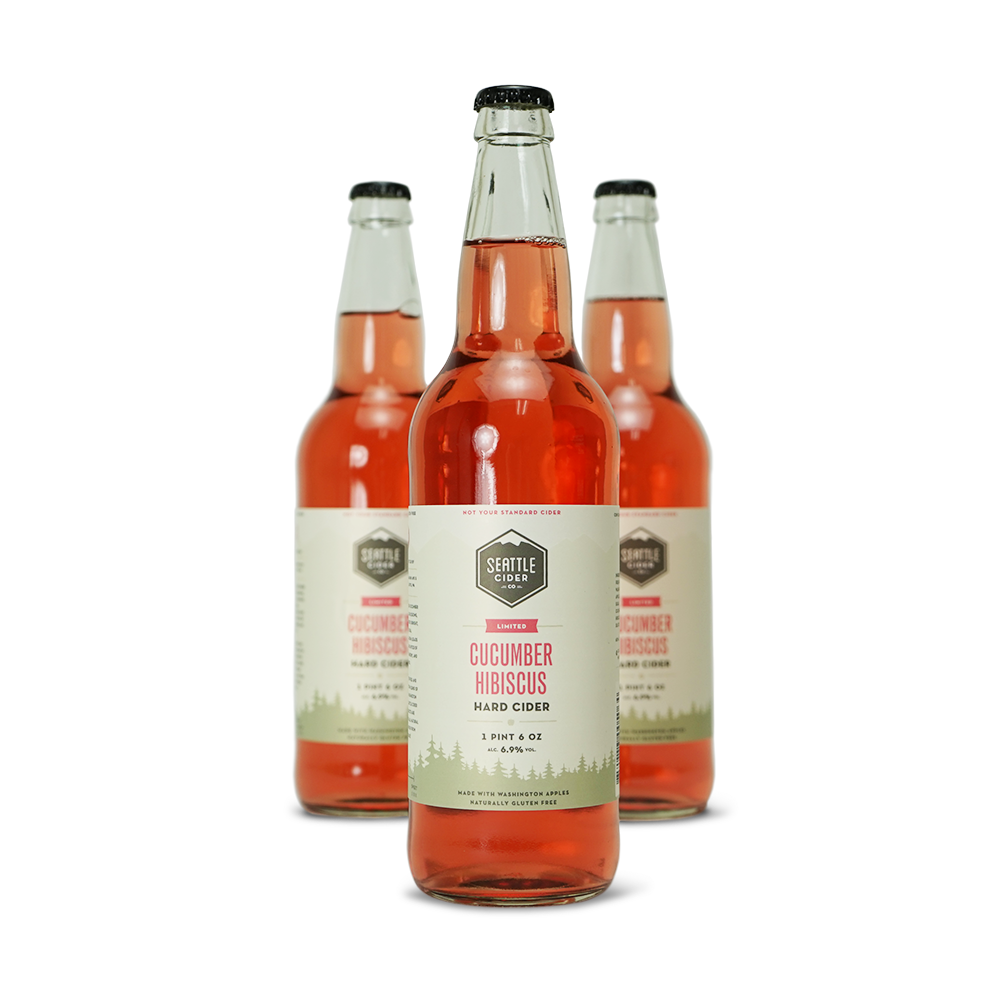 Digital print empowers you to print what you want, when you want, how you want. Easily control your label order volume, replenishment frequency, and print version. Our streamlined workflow shortens label production time and accelerates speed to market.

The benefits of digitally printed product labels include:
Color Quality: Continuous color calibration as your labels move through the press maintains print consistency and color quality.
Low Setup Costs: Elimination of print plates reduces setup time, materials, and costs.
Tailored Volume Orders: Production of custom printed labels in volumes that match the needs of your business supports better product lifecycle management.
Test Marketing: Short runs for a reasonable cost enable tests of varied label artwork in the marketplace to see what resonates.


Custom
Label Capabilities
We provide a variety of custom label solutions, digitally printed on our two HP Indigo web presses:
Variable Data: It's never been easier to manage variable graphic assets such as bar codes, text, numbers, and photos
White Ink: Solid and vibrant, this specially formulated ink can be sandwiched between other print layers to create a double-sided image
Security Ink: HP Indigo ElectroInk Invisible Red for anti-counterfeiting applications
Two-Sided Print: Add graphics to both sides of your label to surprise your consumer when they look through your transparent product or empty the container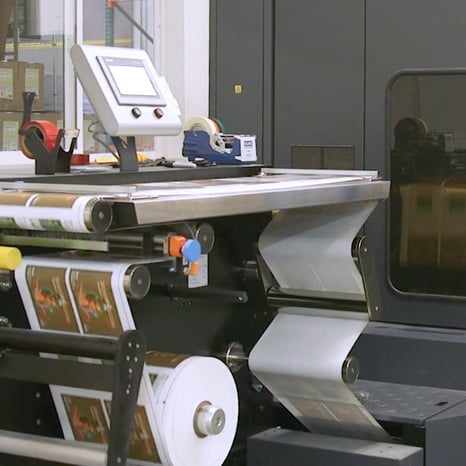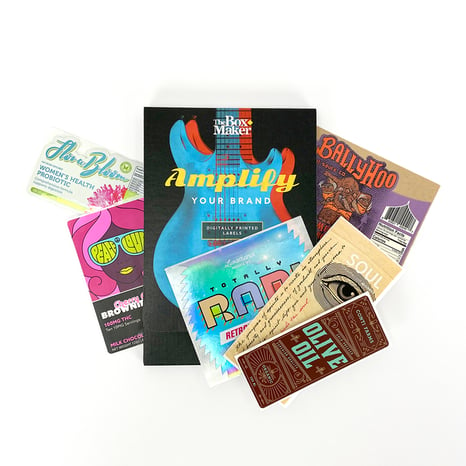 We supply a variety of standard choices for your custom label's face stock material:
BOPP film in white, clear, and chrome
PET film in white, clear, and chrome

Polyolefin film in white

Vinyl film in white
Silver foil paper
Kraft recycled paper
Semi-gloss paper
Thermal transfer paper
Tag paper in 7pt, 8pt, 10pt, and 12pt
Natural felt paper
Cold temperature films and papers
Our team can also source specialty materials to create unique textures, enhance security, or improve durability. These may require a higher minimum order volume.
The BoxMaker offers several label finishing options to achieve the desired visual and performance requirements of your project:
Flood gloss varnish
Spot gloss and spot matte varnishes
Matte and gloss laminate
Custom die-cutting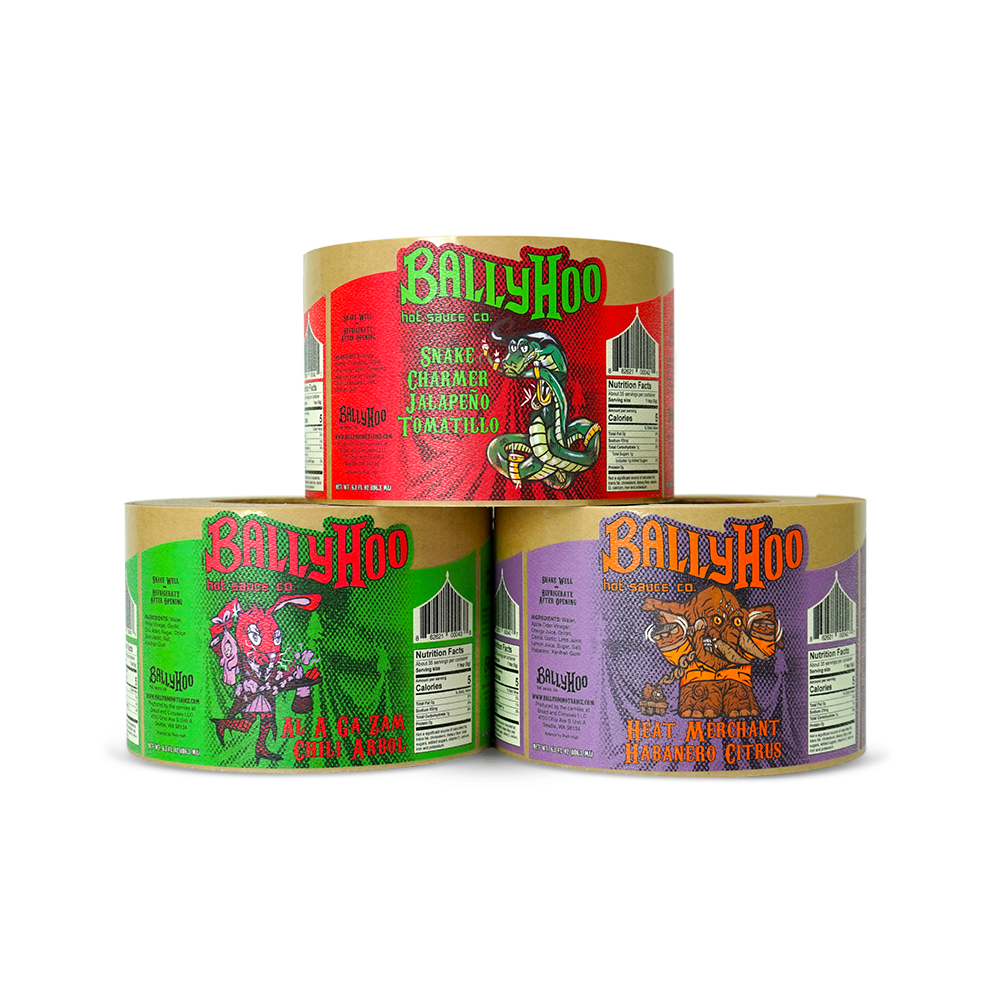 Sustainably Manufactured
Custom Labels
Digital printing is more sustainable than conventional flexography because it produces significantly low material waste:
No raw materials are needed to create print plates
No print plates to be stored or disposed of after use
Exact order quantities eliminate volume overruns that could lead to obsolete inventory and additional material waste