Make it POP: The Art of Retail Display
4 min read
April 25, 2019
In brick-and-mortar retail, today's consumers shop much differently than how they did 10 years ago. Armed with smart phones in hand, they compare prices, seek out product reviews, and instantly get the opinions of their family, friends, or social network to help them make a buying decision. With so many product options both in-store and online, major and local brands must compete for consumer attention and stand out among the pack.


Visual merchandising has a major impact on the consumer's impression. Successful consumer good brands often use retail displays to increase product visibility and enhance brand awareness at the time when it matters most — the point-of-purchase (POP).
"The feedback I often hear from brands is that POP retail displays give their product a standalone presence," says Juan Lopez, Regional Sales Manager for Western Washington at The BoxMaker. "It makes a statement on their strength in the market and leaves an imprint on the consumer in regard to both their brand and the product at hand."
Designing an effective POP retail display is an art form, and we're here to help you create your next masterpiece.
What are POP Retail Displays, and Do They Work?
If you've ever been in a grocery store, retail shop, or food and beverage establishment, chances are that you've seen or even made a purchase because of a POP display. They come in many different varieties and typically hold products or serve as signage next to the product the brand promotes. POP displays are often strategically located in the checkout area or other locations where buying decisions are made.
You may be wondering: "Do point-of-purchase retails displays actually increase sales?"
The short answer? Yes! Even the most discerning shoppers can't help but be influenced by a captivating and effective retail display – whether they know it or not. This is because POP displays draw eyes to the product through high-quality graphics and messaging, increasing the likelihood of shoppers adding the item to their cart. In fact, POP retail displays have been shown to increase sales as much as 20 percent.
How to Design an Effective POP Retail Display
To create an effective retail experience, it's crucial to understand how today's consumers interact with POP displays. Here are 3 key features to consider:
Enhance the Brand: Regarding retail display design, less is more. Your display's colors and graphics should have "stopping power" but are not so loud that they compete with the primary product packaging. A great display reinforces your brand but makes the product the center of attention.
Easy to Assemble: Once your display arrives on-site at a store or retailer, it's often up to a third party or your sales rep to put it together. An effective retail display is designed to be fool-proof, making setup a breeze for any employee. This is why it's important to design an easy-to-assemble display within the allotted space to ensure it makes it onto the floor as intended. Be sure to check with your packaging partner to see if they offer kitting and fulfillment services, which give you the greatest control over how your display arrives at the store.
Reuse Ready: Not every display is meant to have a long lifespan — also known as a temporary POP retail display. Consider whether or not a reusable or refillable display is appropriate for your product. This will impact your choice in materials, print quality, and overall structural design. Planning for reuse is a great way to increase the return on investment on the cost of a display.
Some POP displays, such as the Two-Tier Counter Display available from our Retail Display Program, feature a removable header. Instead of designing and ordering a completely new counter display, brands can simply switch the header graphic on existing displays to align with current marketing campaigns or short-run promotions through digital print.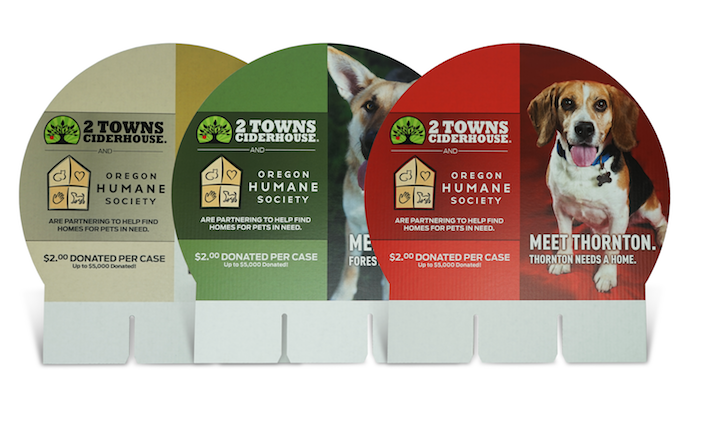 Additional Considerations for POP Retail Displays
An additional factor to consider when designing your retail display is the required footprint, or the square footage of space that your display will occupy on the floor, counter, or shelf. Check with your retail partners to ensure your display meets their dimension requirements and available space.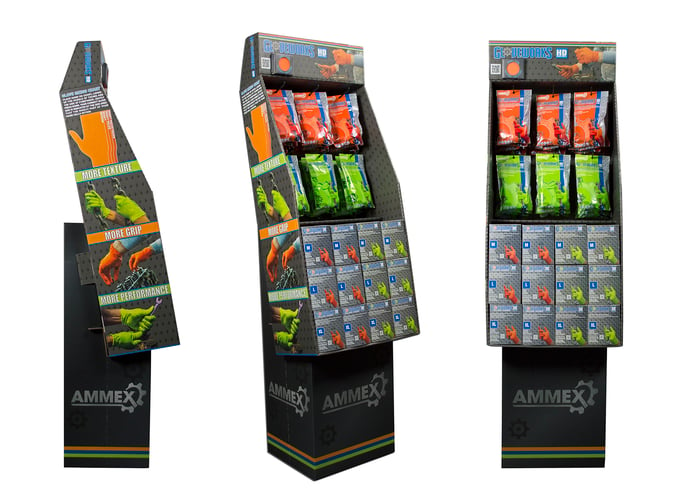 In regard to print method, you may choose to have your display flexo printed, digitally printed, or even a combination of both. Traditional flexo printing is limited in color range but can be more cost effective for high volume orders. On the other hand, digital printing allows for a full CMYK color process and doesn't require the manufacturing and tooling of custom print plates. While the cost per piece may be more expensive with digitally printed retail displays, the savings in setup costs are often countered in the long run.
"I have found that digitally printed retail displays are more effective overall in quality, color, and cost-savings," Juan says. "Digital print gives startups and up-and-coming brands the opportunity to utilize retail displays, whereas high-minimum volume orders had been previously been a barrier when flexo was the only option."
Before selecting a print method for your POP retail displays, it's helpful to consult with an experienced packaging provider to determine the best method for your business needs and product.
Craft an Impactful Retail Experience with Custom POP Displays
Point-of-purchase retail displays are a simple yet effective way that brands can optimize space in the crowded retail environment and grab the attention of today's consumers. Designing an effective point-of-purchase retail display may be an art form, however, it's accessible for both major and local brands alike.
The BoxMaker's Retail Display Program makes customizing and ordering retail displays easier and faster than ever before. We've created a collection of pre-designed retail displays to choose from — simply select a style and apply your graphics to a provided die-line. More than just a visual tool to spark ideas, our Retail Display Program was designed to speed delivery by compressing the development process, so you can get your product to market faster.
Achieve Retail Success with Point-of-Purchase Displays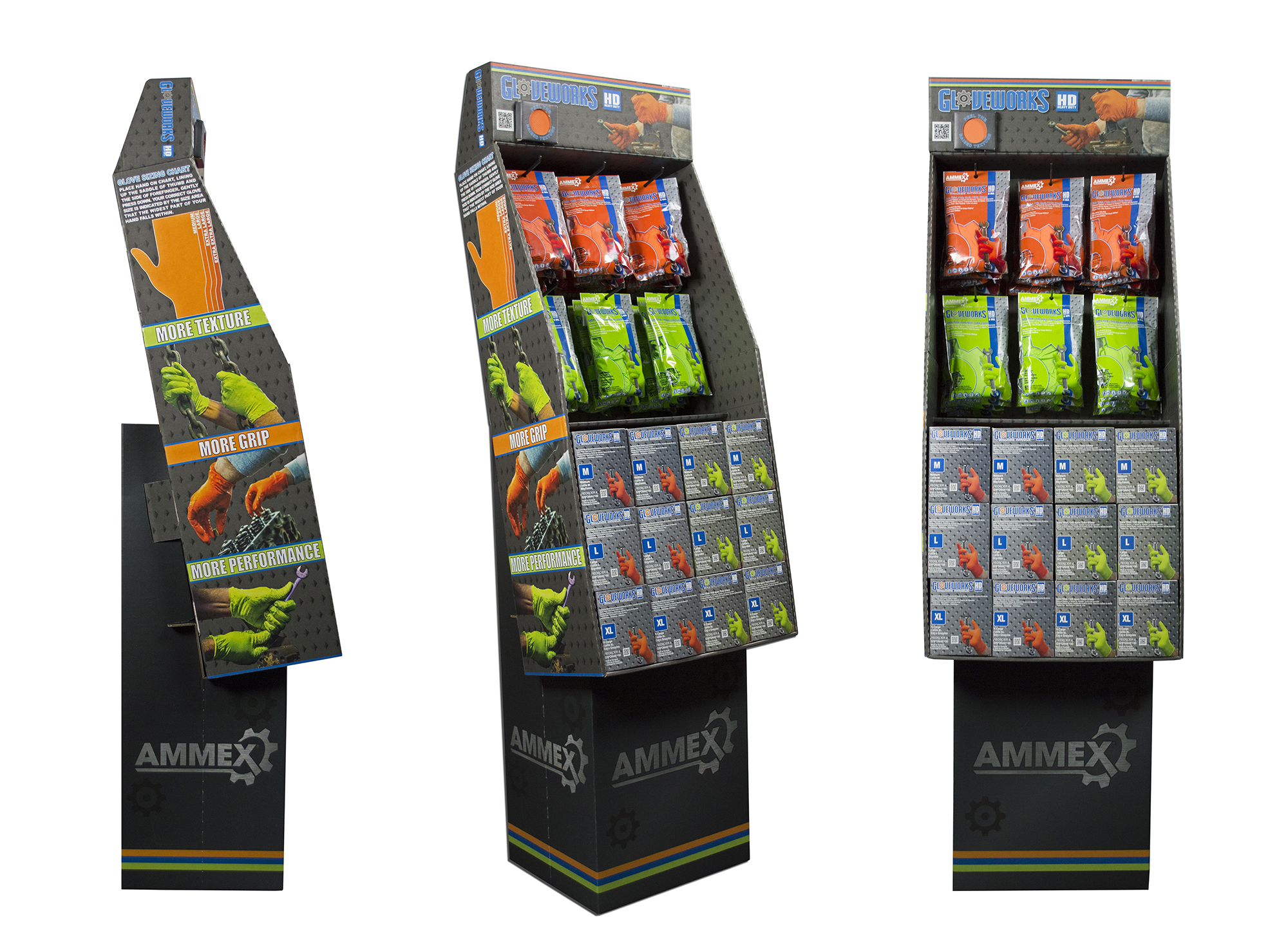 Achieve Retail Success with Point-of-Purchase Displays
Brands that use point-of-purchase (POP) displays can find retail success in multiple ways. Here are …
Read Now
2 Towns Ciderhouse Uses Digitally Printed Retail Displays to Drive More Than Sales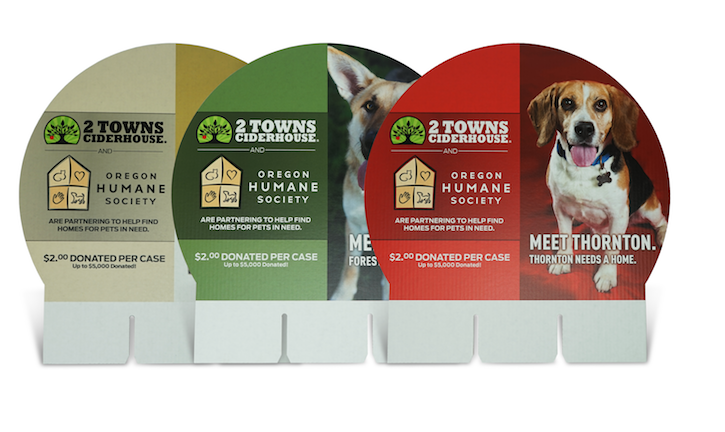 2 Towns Ciderhouse Uses Digitally Printed Retail Displays to Drive More Than Sales
Learn how Oregon-based cider company 2 Towns Ciderhouse leveraged digitally printed cider packaging …
Read Now
When to Start Planning Your Branded Holiday Packaging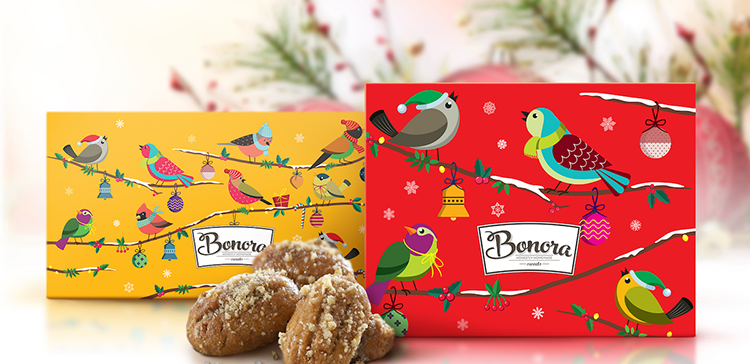 When to Start Planning Your Branded Holiday Packaging
The end of summer signals that it's time to start planning your seasonal packaging campaigns, includ …
Read Now