Packaging Case Study
Ablis CBD Drives Online Customer Conversions with Ships-in-Own-Container Sample Pack
CBD Infusions Designed to Support an Active Lifestyle
In 2014, Father-son duo Jim and Max Bendis noticed the market lacked a CBD infusion to support adventurous individuals who love the outdoors.
In response, the pair founded Ablis, and the first line of functional CBD infusions designed to support an active lifestyle was born.
Located in Bend, Oregon, Ablis is a rapidly growing CPG brand with several SKUs, eager to expand awareness and adoption across its range of products. For Ablis, digital marketing is critical for brand growth. Social media, influencer partnerships, and an easy-to-use e-commerce website are all important elements of the company's marketing funnel.
In 2021, Ablis CEO Cody Cloyd wanted to do something to capitalize on the brand's high volume of website traffic to drive more conversions. The team conceptualized the Ablis Sample Pack, an affordable opportunity for site visitors to experience the Ablis line of products, get a feel for the brand, and convert from inquisitive shopper to loyal consumer. Each pack contains thirteen product samples in total and ships in its own container, making order fulfillment easy and delivering a great consumer experience.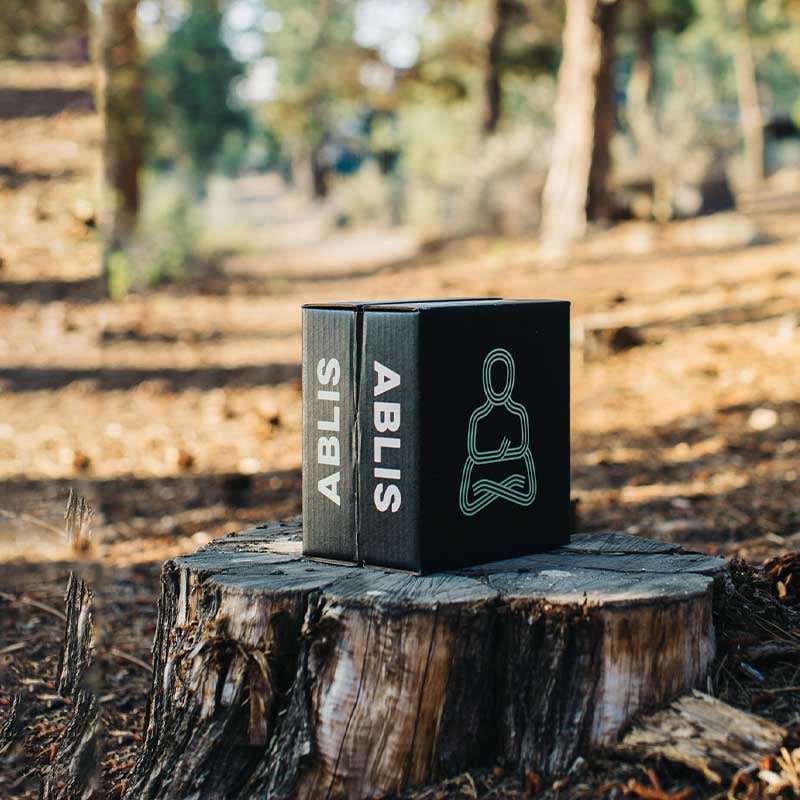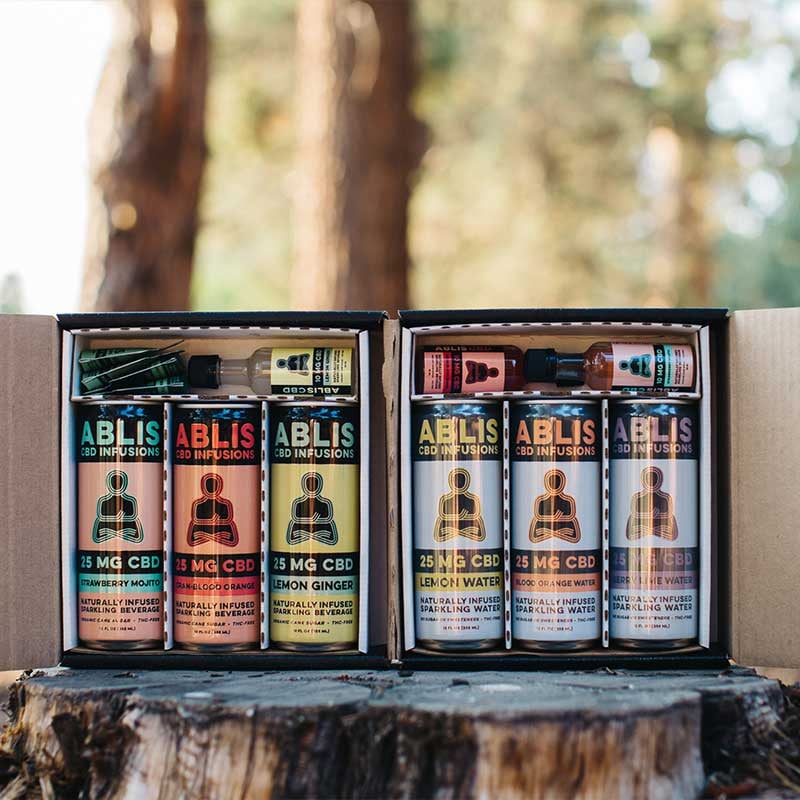 Connecting with the Right Packaging Partner
To bring their sample pack vision to life, Ablis partnered with The BoxMaker to develop the right packaging solution. Ablis needed a box that was strong enough to hold the products and get them safely to their destination. The brand also desired a single container solution with no additional outer components to complicate order shipment. Finally, the structure needed to deliver an engaging unboxing experience that facilitates excitement around the products inside.
This box was designed specifically with shipping costs in mind. The BoxMaker's structural design team developed a solution that dimensionally could be affordably shipped directly via USPS Priority Mail™ or within a USPS Flat Rate™ box, keeping shipping costs at a minimum depending on the destination of each sample kit.
The Ablis Sample Kit box is digitally printed. Because of this, Ablis minimized their packaging costs by avoiding the purchase of print plates. Digital print production also frees the brand to experiment with their packaging decoration and potentially update their graphics with each new run as they refine this marketing tool over time.
Leveraging QR Codes to Create a Digital Connection Beyond the Pack
Every Ablis Sample Pack ships with two QR codes integrated directly into the print of the box. One code allows recipients to easily sign up for the Ablis newsletter, feeding into the brand's successful email marketing funnel. The 2nd code provides an exclusive discount towards the customer's next purchase, encouraging future sales.
By integrating the QR codes and brand messaging directly into the box print, Ablis eliminated the cost of adding an additional piece of print collateral for every box.
However, this box is not Ablis' first to integrate QR codes. Because their products contain CBD, the company is aware of the need for transparency. Many Ablis packages feature a QR code that links to product testing information on the company's website. This not only increases trust in a convenient way for the consumer, but it also sets Ablis up for success when satisfying potential industry regulation.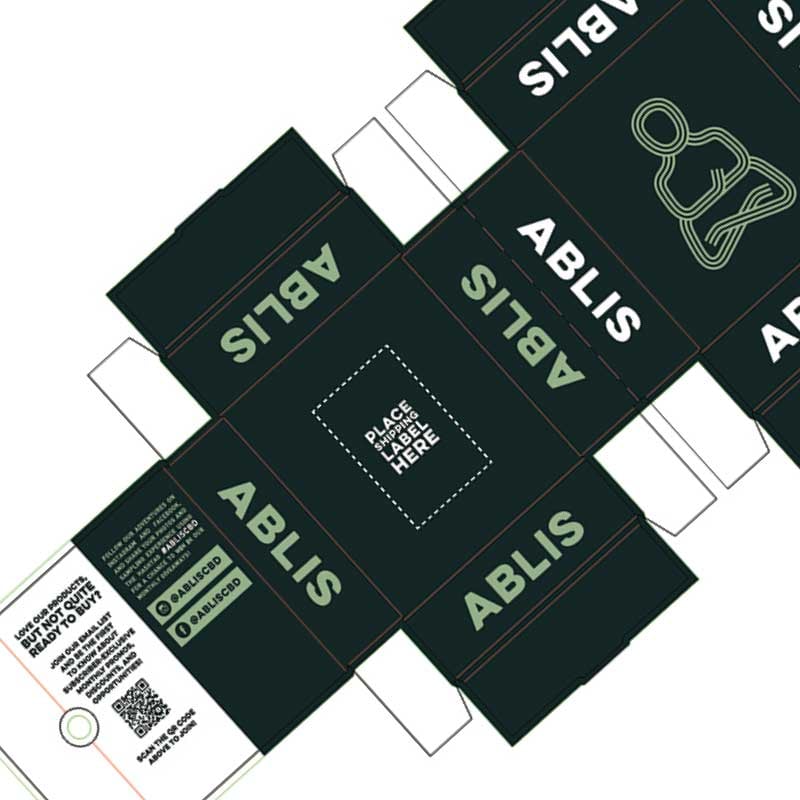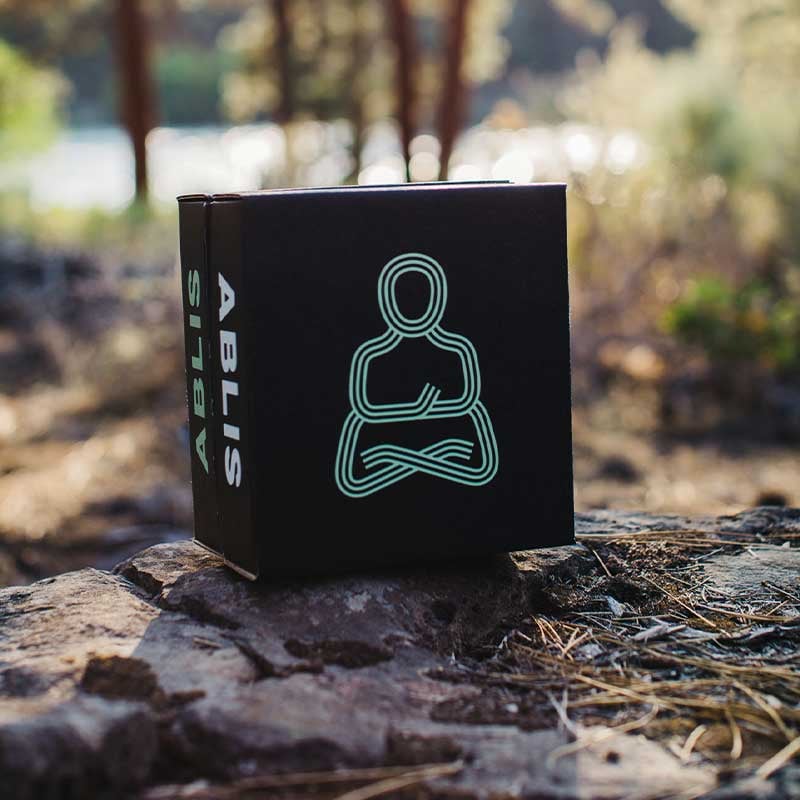 Fueling New Sales and Future Success
Since launching the Ablis Sample Pack, website conversions have increased measurably. Ablis is also making use of the packs beyond their website, arming their sales team with a powerful leave-behind when engaging retail outlets and other potential selling channels.
As the Ablis Sample Pack continues to be a key player in the brand's sales and marketing initiatives, The BoxMaker has been able to scale up production and fulfill increasing order sizes with ease, keeping Ablis stocked with packaging and the confidence to continue to grow their sample pack program.
Standing Out From the Competition
"QR codes are convenient for us and our consumers, and we plan to continue to use them wherever it makes sense."
Cody Cloyd
Ablis CEO