Packaging Case Study
Grow and Make: Meeting the Evolving Needs of Growth
Rapid Growth in an E-Commerce World
Founded in 2008 in Portland, Oregon, Grow and Make inspires people to use their hands to create. The company's products provide tools and knowledge that turn DIY curiosity into DIY experience.
Offering about twenty different do-it-yourself kits, Grow and Make ships more than 25,000 boxes a year. Packaging plays a major role in promoting their brand and inspiring their audience.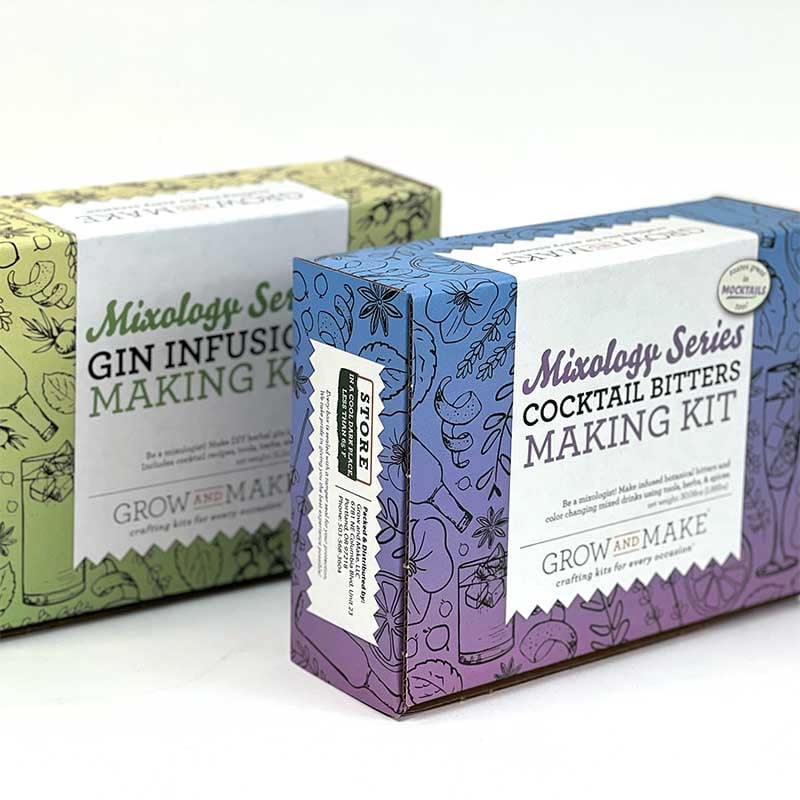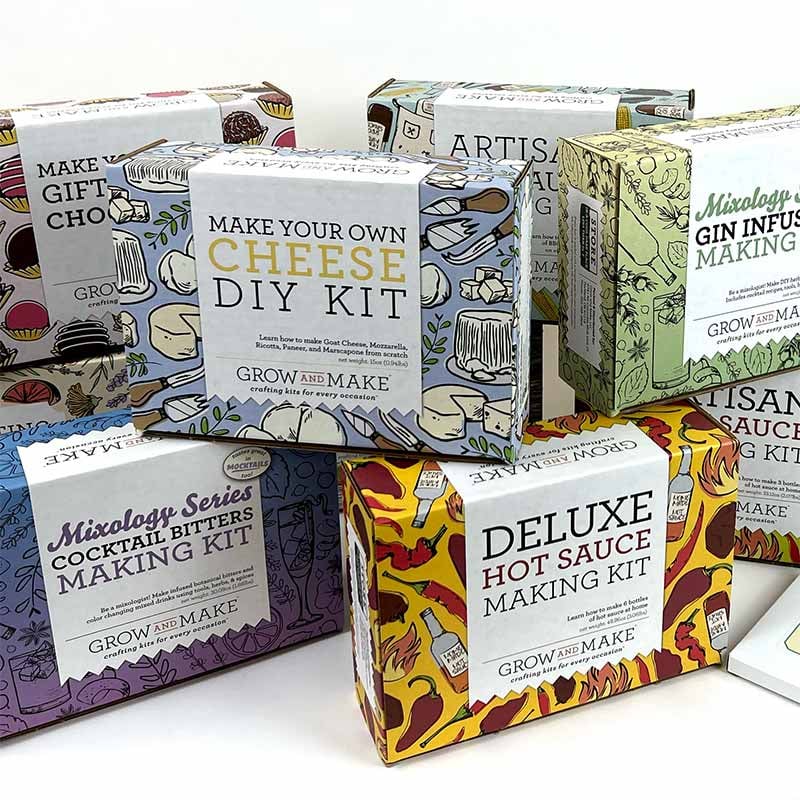 Outgrowing the Old
Despite the variety of products offered, Grow and Make had been using a single box size for most of their DIY kits. When they decided to re-design and add a second custom box size in 2022, the brand knew they not only wanted to tell a story with the packaging, but they also wanted to improve operations with kits sized more efficiently to the contents inside.
Telling a Story with Pattern
As a long-time client of The BoxMaker, Grow and Make was well familiar with our digital print and finishing capabilities, and how those could be leveraged to create a totally immersive brand experience. The new box designs feature a different pattern on each box that relates to the theme of the kit. Not only does this create a cohesive look, but the use of pattern adds visual flair and helps grab the consumer's attention with the kit theme if they're too busy to read the print.
Now available in boutique-friendly wholesale catalogs like Faire, as well as direct-to-consumer catalogs such as Amazon and Etsy, Grow and Make credits the new packaging for making their product more retail friendly. According to Ingrid Linde, Product and Operations Manager at Grow and Make, "Feedback on the new packaging has been positive across the board."
To deliver the best possible print quality, this project was produced on The BoxMaker's HP PageWide C500 Press. The C500 offers all the benefits of digital print, including volume and version control, at a print quality that is comparable to high end flexography.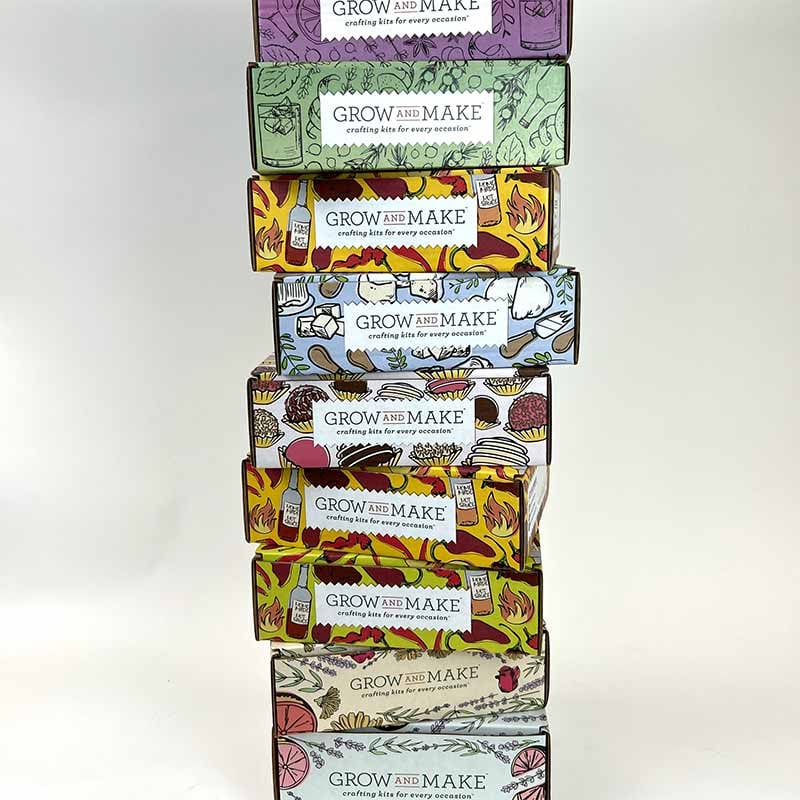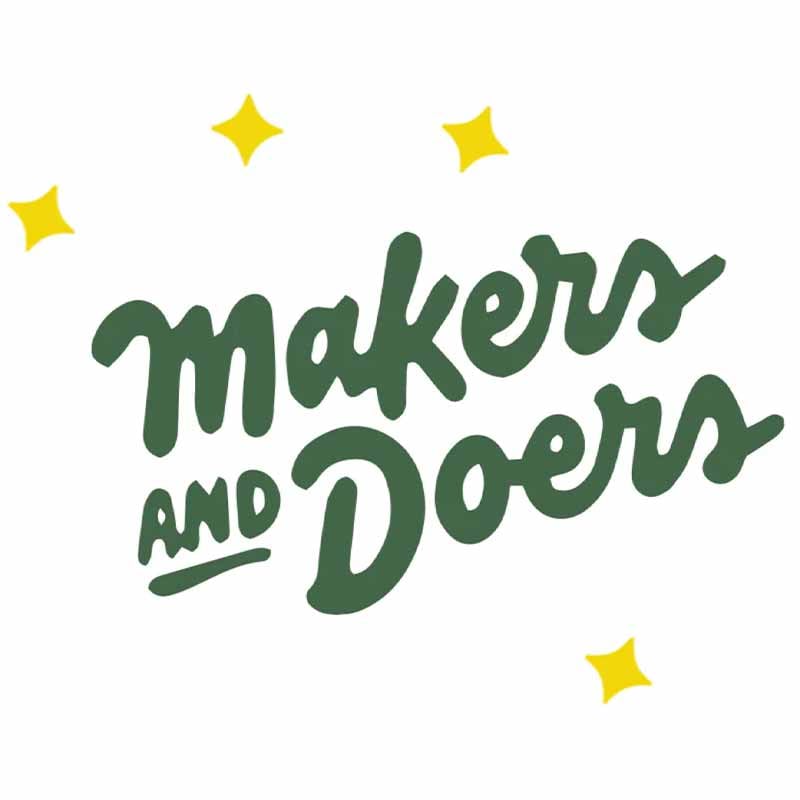 Improving Operations with Every Box
Custom sizing each kit to the contents inside has streamlined order fulfillment and delivered cost savings in the form of labor and materials to the brand. Additionally, by replacing the use of labels and stickers with integrated print right on the box, order completion is further simplified – getting more kits out the door faster, and for less. Creating a smaller box has also saved valuable space for Grow and Make. The newer custom box more efficiently houses the contents inside and takes up less warehouse space. A pallet can now fit 400 units versus 280, which not only saves on freight costs, but also on Amazon Warehouse costs, resulting in one of the most effective cost saving changes Grow and Make made in 2022.
In the future, Grow and Make is considering the integration of inside print on their boxes to eliminate drop cards and further streamline their pack out process.
Cheers to Growth!
As their company experiences growth, Grow and Make is committed to constantly re-evaluating their packaging and making updates that deliver on consumer expectations and fulfill a business need. As the company continues to scale, The BoxMaker is ready to grow with them as their all-in-one packaging partner.
"Feedback on the new packaging has been positive across the board."
Ingrid Linde
Product and Operations Manager