Shrinking Product Lifecycles and Your Packaging Supply Chain
4 min read
November 22, 2019
Similar to the lifecycle of a living being, consumer goods products go through key stages of development. All products will inevitably pass through introduction, growth, maturity, and decline. However, over the past several years, there has been a distinct shift in the retail and eCommerce landscape. Products are passing through the traditional lifecycle model faster than ever before, and brands must effectively adjust their supply chain, including their packaging, to align with ever-shrinking product life expectancy.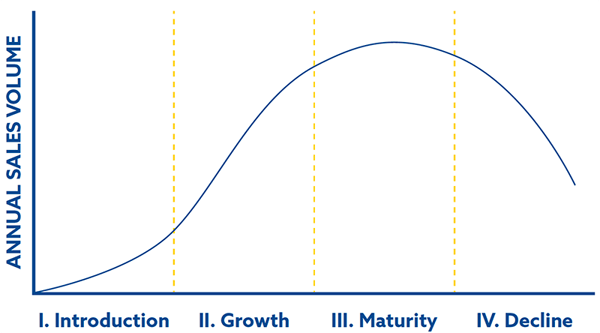 To better understand the impact of shrinking product lifecycles, let's take a step back and explore the four stages:
Introduction: The initial phase of the product lifecycle is the introduction, which occurs when the product launches into the market. During this time, brands must promote the product's value propositions to attract target audiences through marketing, branding, packaging, and more.
Growth: The shift into the growth stage occurs when the product begins to gain traction among consumers. In this stage, brands heavily focus on customer acquisition and driving sales as they devote more resources to marketing and promotion to maximize awareness.
Maturity: When the product maintains a loyal user base, it has reached the maturity stage. The product is established in the market and has consistent sales. Brands transition their focus into customer retention and keeping up with competitors to maintain market share.
Decline: Eventually, the market for a product will inevitably decline due to market saturation or changing consumer demands. During this stage, brands must seek solutions to reduce production costs, add or remove features for improvement, or discontinue the product altogether.
Why are Product Lifecycles Shrinking?
Today's consumers have a seemingly limitless number of choices at their fingertips, as retail shelves and online marketplaces are seeing more SKUs than ever. Compounding the situation is the blossoming number of products and product variants entering the market. According to a 2015 Nielsen survey of CPGs, 60,000 new SKUs were introduced to the marketplace in Europe. Of those, only 55 percent made it to 26 weeks, and only 24 percent remained after one year. So, why are product lifecycles continuing to shrink with each passing year?
The answer lies in advancing technology. When new innovations emerge on the scene, brands must quickly launch new products or adapt their existing products to maintain relevancy. Whereas before, brands had more time to focus on the growth and maturity stage, innovations and changing consumer demands are pushing products from the introduction through to decline lifecycle stage faster than ever. Additionally, technology allows for brands to innovate and accelerate product development, increasing the number of available SKUs in the marketplace.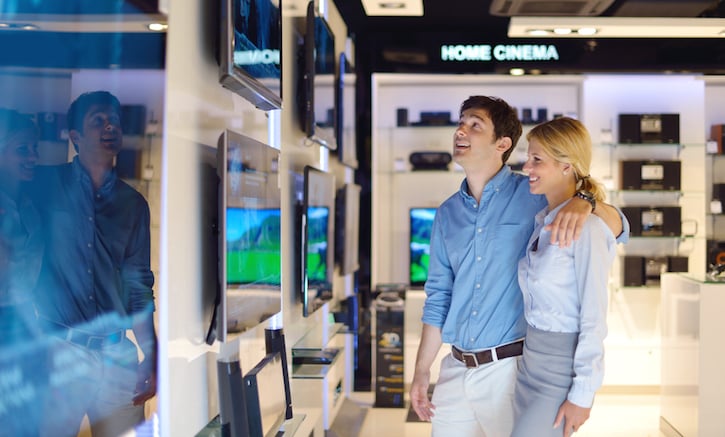 This acceleration is widely apparent in the tech industry. Consider the rise and fall of 3D television. After the global success of the 2010 3D blockbuster "Avatar," TV companies began throwing their engineering and marketing efforts behind the 3D technology — with the promise to revolutionize home entertainment. Despite the initial buzz and consumer interest, 3D TVs did not take off as expected and most TV makers eliminated 3D support within a few years, refocusing their efforts on products that better suited their audiences.
Leveraging Digital Print to Manage the Packaging Product Lifecycle
Shrinking product lifecycles make it increasingly important for brands to get their products into the hands of consumers quickly and before their competitors. For brands that rely on conventional print methods for their packaging, such as litho lamination or flexo print, speed presents a significant challenge.
Because conventional print involves the manufacturing of individual print plates, the turnaround time can take weeks or months due to the multi-step manufacturing process. Not to mention, these print methods rely primarily on analog pre-press, setup, and production techniques, with very little of the process digitized or automated.
Conventional print also typically requires high volume minimum orders of identical boxes, labels, or retail displays to be cost-effective. Given the nature of shortened product lifecycles, brands may be left with surplus inventory. Unused packaging will likely become obsolete if the product is taken off shelves or a newer version is released. The surplus packaging then ends up in the recycle or landfill as wasted cash.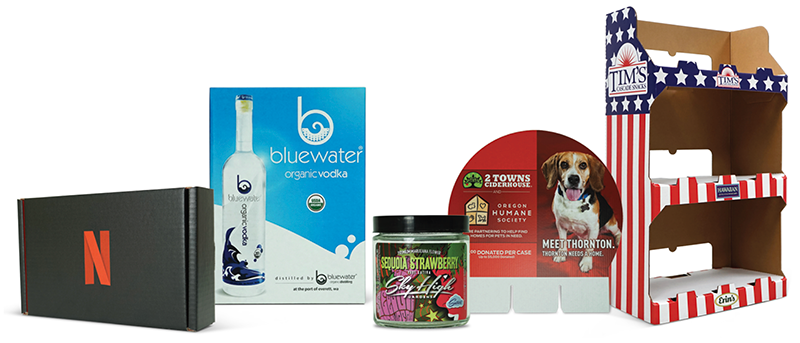 Speed-to-market is critical to compete in retail and eCommerce. Leading brands are leveraging the latest printing technologies over conventional print to manage product lifecycles and their packaging needs more effectively. The print-on-demand nature of digital print enables brands to order exact quantities and replenish their inventory on a more frequent basis than conventional print. This means that brands can adjust order volumes based on actual sales data over the course of a product lifecycle.
Without the need for print plates, digitally printed graphics can be refreshed many more times throughout the product lifecycle compared to conventional print. This allows for more accurate and relevant on-pack messaging to align with ongoing campaigns, consumer trends, or seasonality — further boosting sales.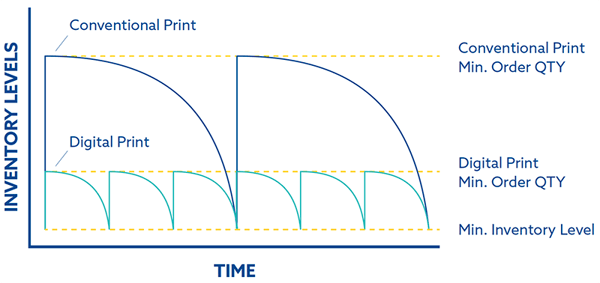 Digital presses and finishing systems for packaging deliver opportunities to optimize the production workflow, thus increasing efficiencies in the supply chain. With digital print and finishing for packaging, advanced workflows take the art file from PDF to press with little if any manual processes. The digital print workflow is faster than that of conventional print and can deliver a product out to the market with more speed and all the added benefits that come with this modern technique.
Working with The BoxMaker: Your Pacific Northwest Packaging Supply Chain Partner
To succeed in the fast-paced world of retail and eCommerce, brands must transform their packaging supply chain to align with the ever-shrinking product lifecycle. Brands that fail to adapt risk losing relevancy among consumers or falling behind competitors. By working with a supply chain partner like The BoxMaker, you can take advantage of our expertise and digital print capabilities to manage product lifecycles and their packaging needs more effectively.
Navigating the Post-Pandemic Packaging Supply Chain
Navigating the Post-Pandemic Packaging Supply Chain
Navigating the post-pandemic packaging supply chain doesn't have to be daunting. Learn how to overco …
Read Now
Deliver Value to Your Supply Chain and Consumers with Smart Packaging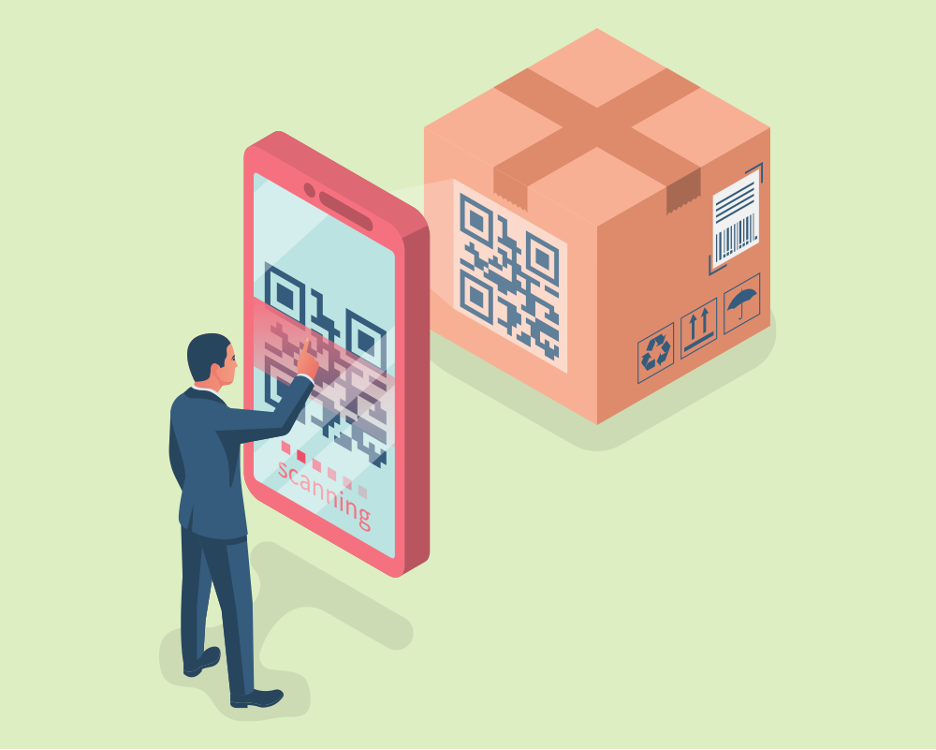 Deliver Value to Your Supply Chain and Consumers with Smart Packaging
Smart packaging provides a new source of insights into the supply chain, logistics, sales, and consu …
Read Now
Managing Product Life Cycles with Digital Print for Packaging

Managing Product Life Cycles with Digital Print for Packaging
Digital print for packaging allows brands to manage product life cycles and their packaging needs mo …
Read Now