Holiday 2023: Consumer Trends and Packaging Opportunities
5 min read
October 18, 2023
Consumer behavior and trends driven by current events are constantly evolving. According to a recent report by PwC, shoppers' preferences and behaviors for the 2023 holiday season will be no exception and are expected to reflect the shifting economy, preference for convenience, and rising prices.
The report reveals compelling trends:
A surge in consumer spending by 7%, particularly among Gen Z consumers, who plan to spend 15% more than the previous year
A dominant preference for home delivery in online shopping
A widespread quest for deals, with over 75% of consumers seeking discounts to counteract price hikes
In this article, we're diving into three key packaging opportunities that businesses should seize in response to the evolving demands of the market this holiday season.
Opportunity 1: On-Shelf Differentiation
This holiday season, with an anticipated 7% surge in consumer spending, Gen Z aren't the only ones who plan to splurge. PwC's report states that almost 40% of all consumers will spend more this year, allocating an average of $1,530 for holiday expenses. For context, consumer prices went up 3.2% from July 2022 to July 2023, meaning consumer spending outpaces the inflation rate significantly.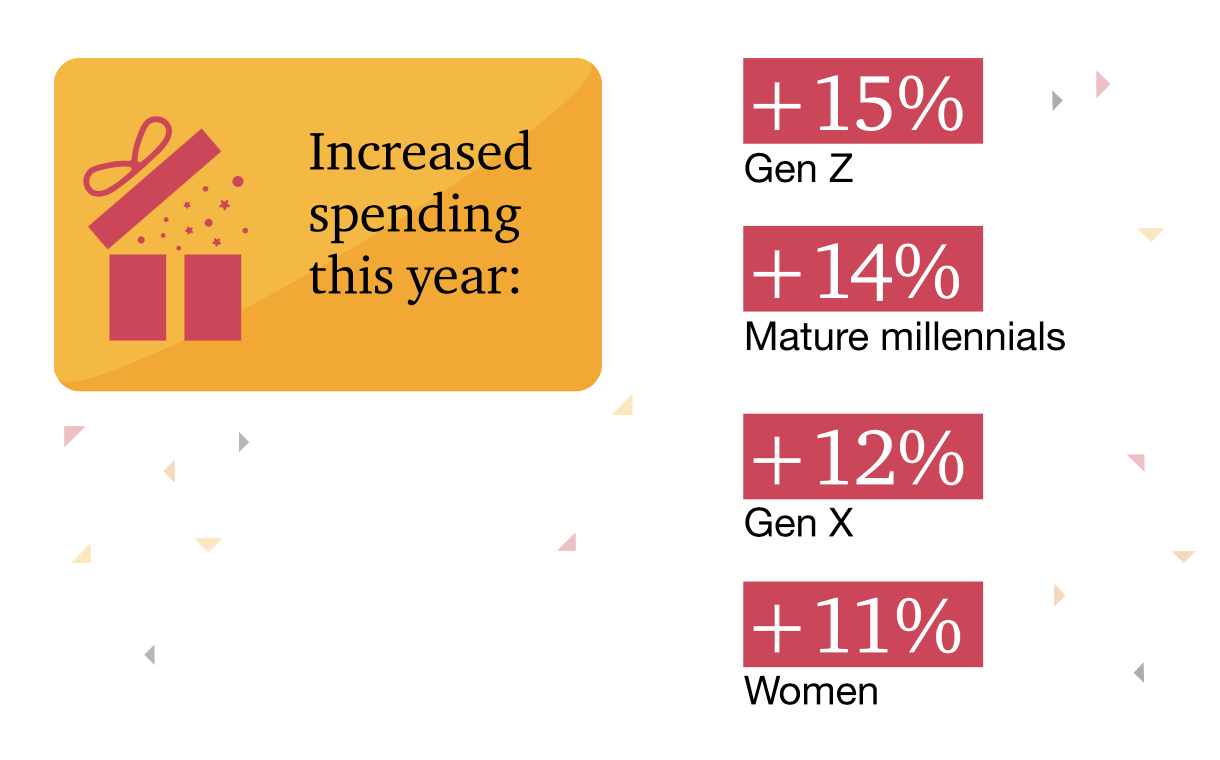 Source: Screenshot from PwC Report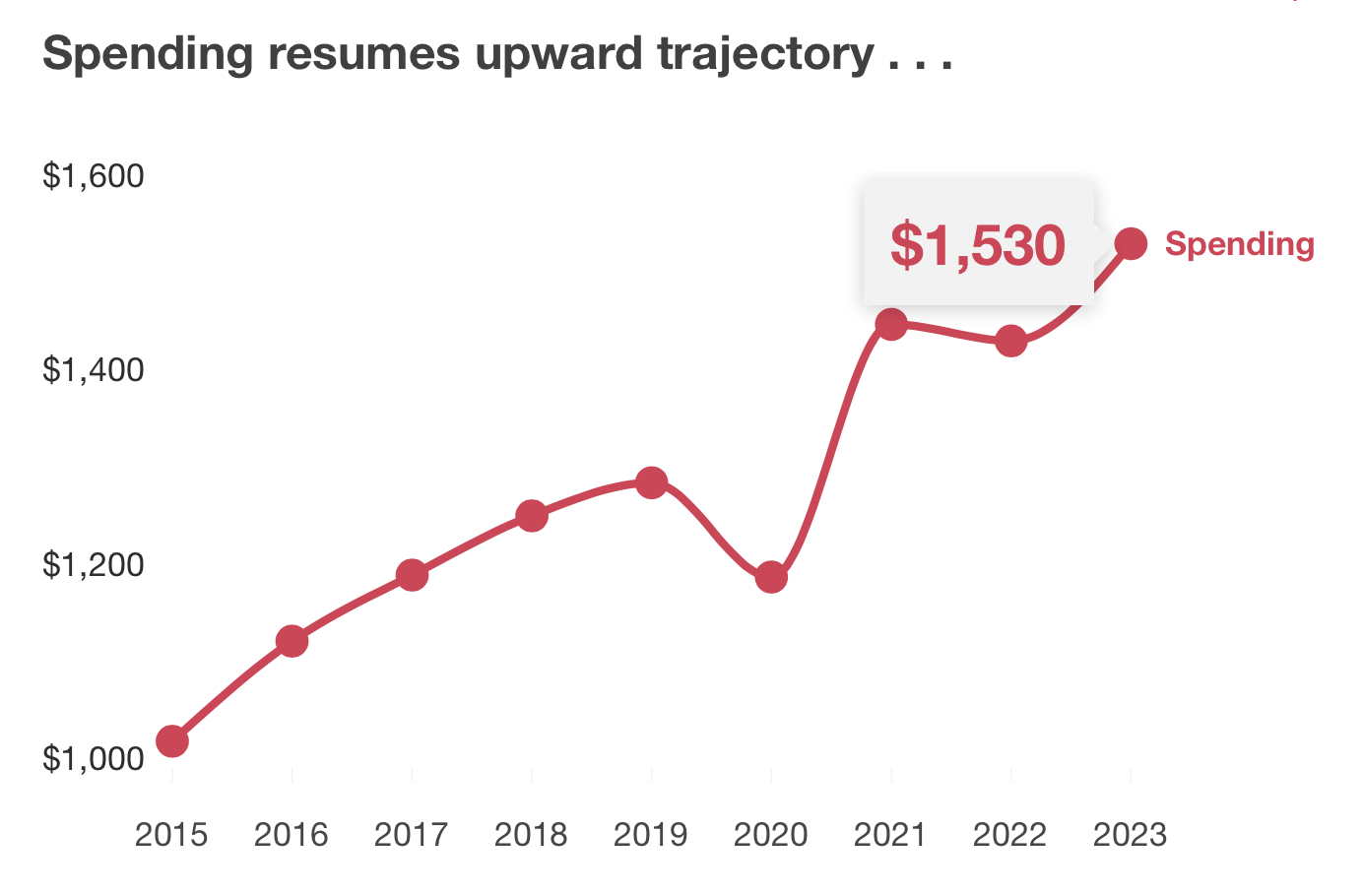 Source: Screenshot from PwC Report
With spending trends showing no signs of slowing down, your branded packaging must stand out on the shelves to compete. Here are two ideas to help you reach more consumers and differentiate your brand: digital print and connected packaging.
Digital Print
Digitally printed boxes and labels redefine the standards of custom holiday packaging. Visually stunning designs can be applied to both short-run and long-run projects with ease, as artwork changes or versions are easily managed within this system. Digital print is highly flexible, allowing brands to unleash their creativity to print what they want and how they want with innovative tools like HP Mosaic Print and Variable Data Printing. These unique software solutions powered by digital print empower brands to make an impression with completely unique packaging decoration, personalization, and tailored experiences for a variety of audiences.
Not to mention, the speed and agility of digital printers drastically reduces lead time and translates to faster speed-to-market, providing businesses with a competitive edge.
Connected Packaging
In a hyper competitive market, grabbing consumer attention is difficult. But with connected packaging technology platforms such as Blue Bite, you can maintain a strong connection with your customers even after purchase. When done right, connected packaging allows brands to craft unique brand identities that resonate with their audience, furthering their ability to stand out. Learn more about connected packaging here.
Opportunity 2: Delight Online Shoppers with a Great E-Commerce Packaging Experience
Per the report, home delivery continues to be a favorite choice across different age groups. In-store and curbside pickup, which experienced a surge in the initial stages of the pandemic, have now stabilized. This is a great opportunity for brands to lean into e-commerce packaging solutions that protect and delight.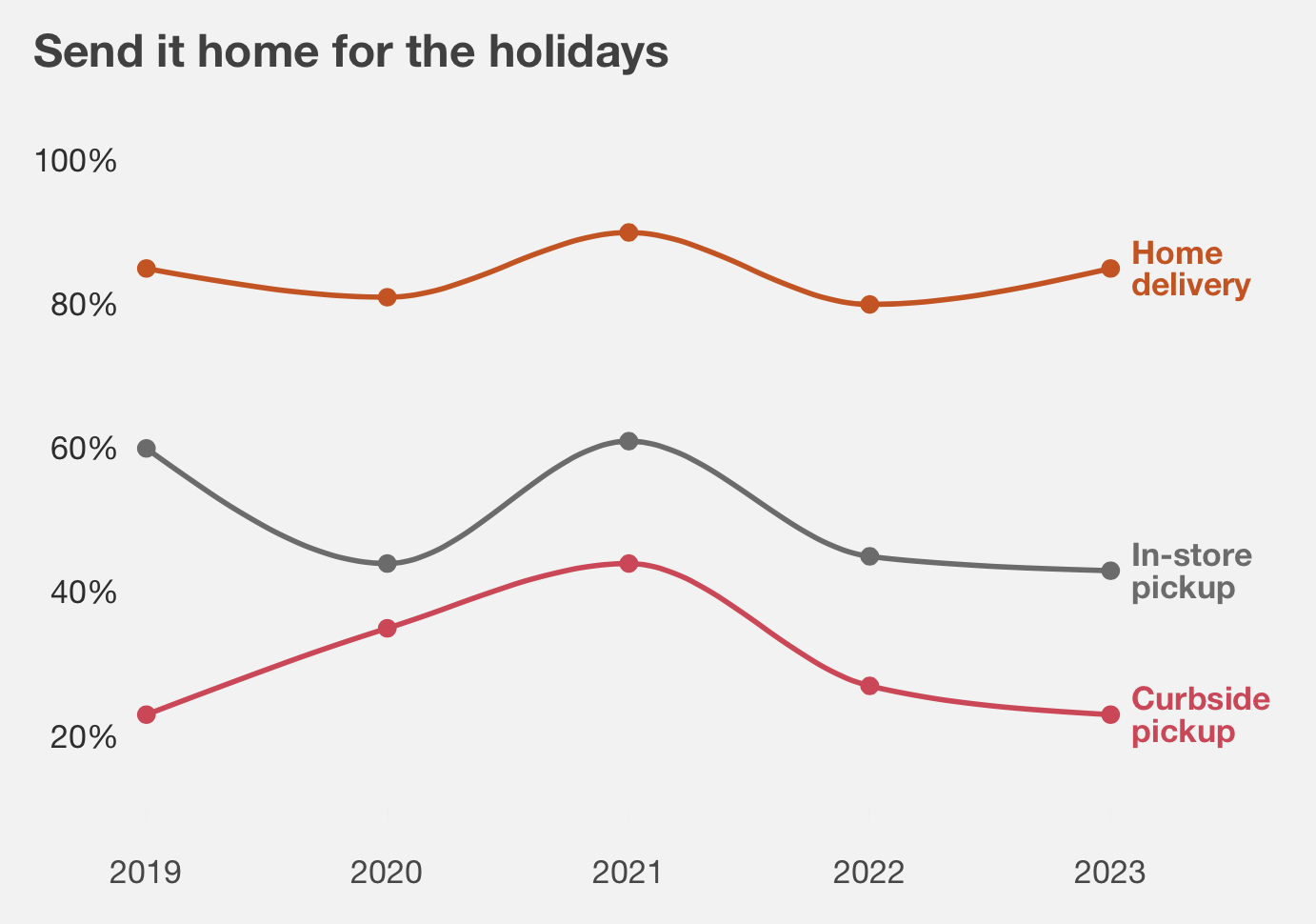 Source: Screenshot from PwC Report
Designing effective e-commerce packaging involves several factors, including choosing the right type of packaging (think boxes vs. mailers), right sizing the packages, selecting void fill options and box seals, managing product returns, and more. Here is a helpful guide that explains exactly what you need to know.
Protective solutions also play a pivotal role in e-commerce packaging. Good protective solutions can reduce damage rates and ensure a smoother delivery and return process. When done right, you can delight your customers, increase retention, and foster brand loyalty.
At the BoxMaker, we offer return-ready corrugated mailers, cushioned mailers, and an extensive library of protective packaging solutions for brands with an e-commerce strategy.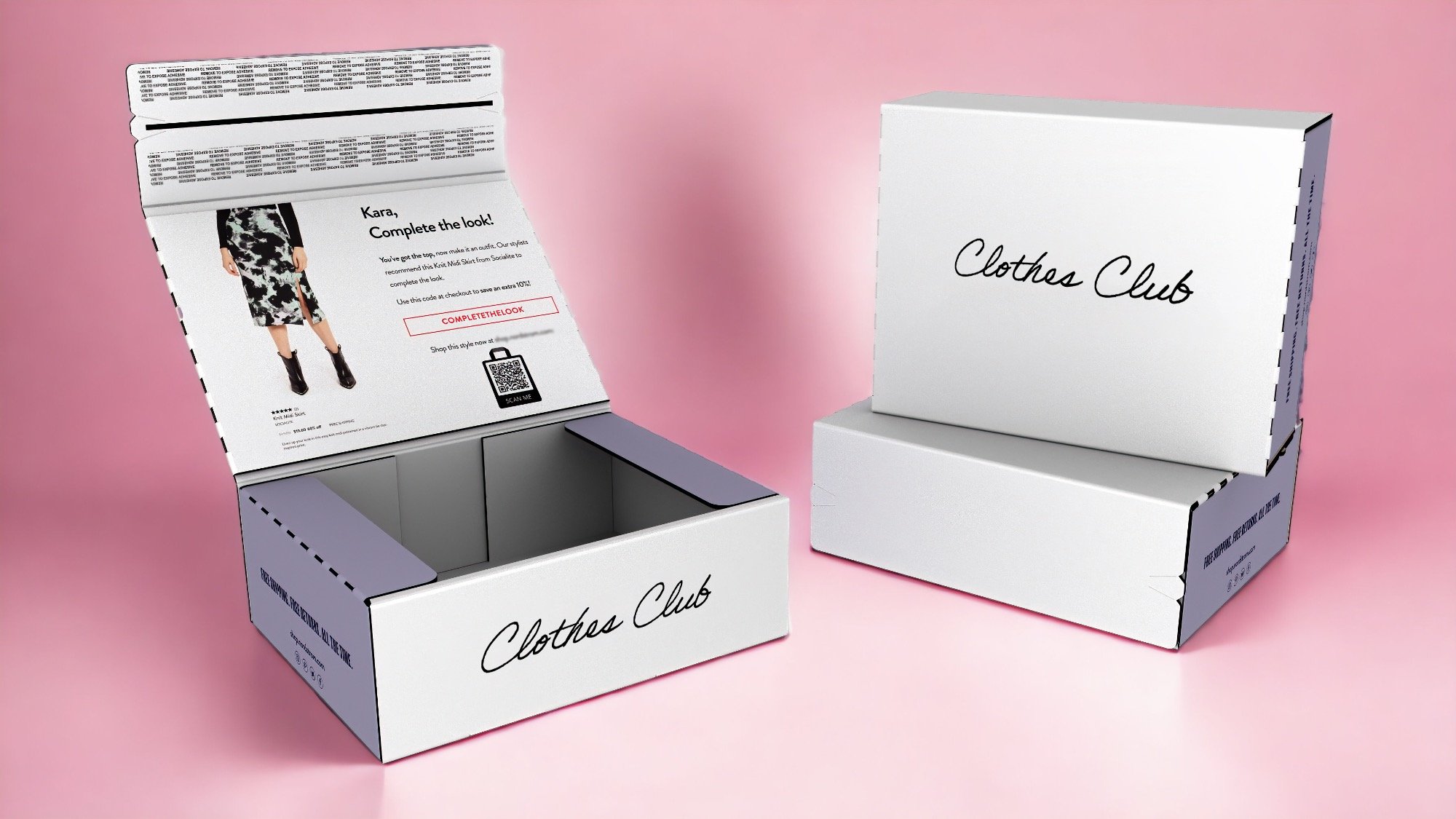 Opportunity 3: Product Bundling as a Strategy
Even with economic challenges and increasing expenses, consumers remain enthusiastic about holiday shopping. A slowing economy has tightened consumer budgets, and more than 75% of shoppers are determined to stretch their dollars and find discounts this season. This is another promising opportunity for brands to satisfy the market's hunger, given that consumers are eagerly awaiting the most appealing deals before making their purchases.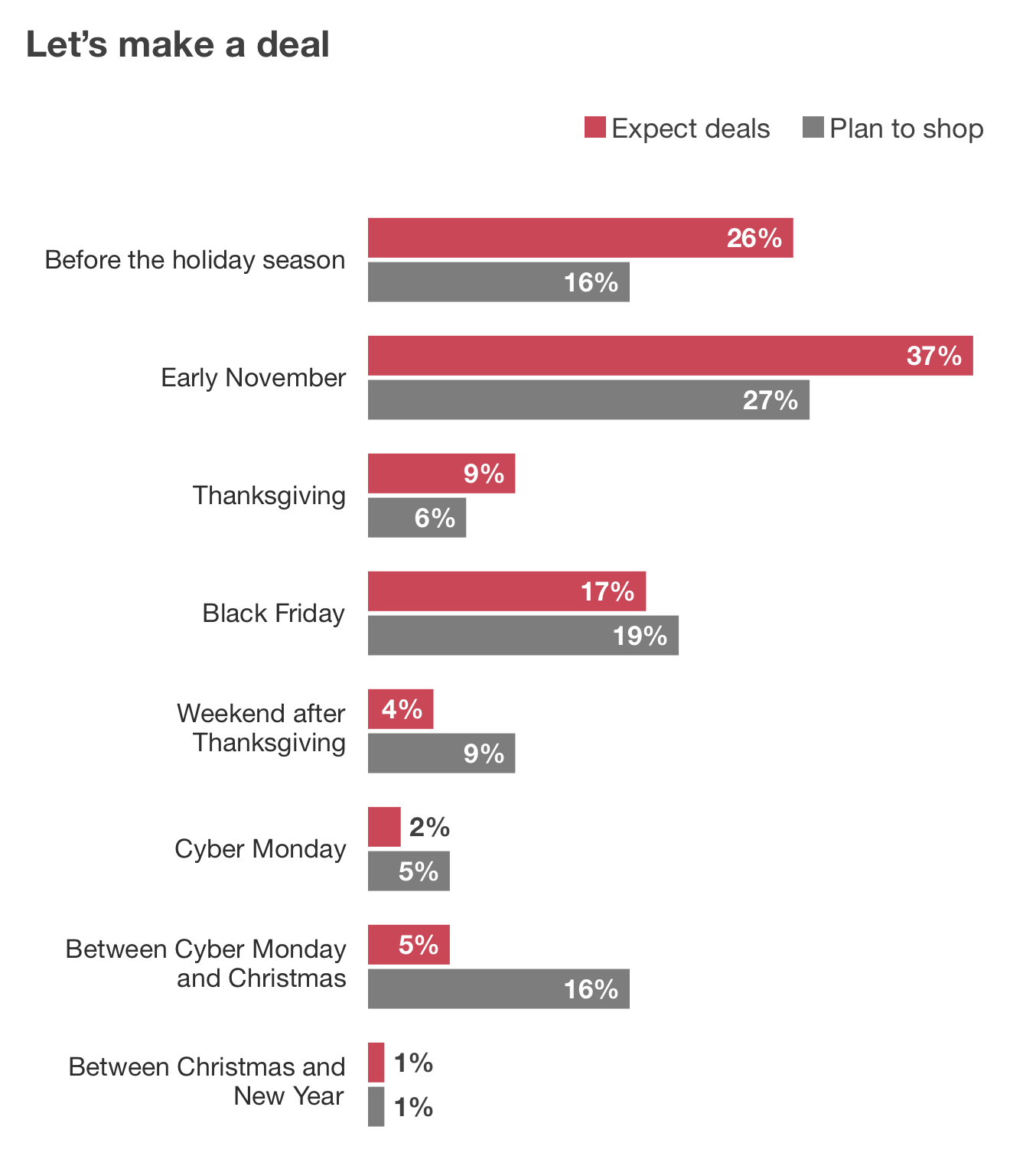 Source: Screenshot from PwC Report
In this case, product bundling is a good strategy to consider. By combining items into bundles, brands can increase their average order value significantly. For instance, instead of selling a single item, offering a bundle with multiple related items priced at an overall discount compared to purchasing each item separately delivers the deal that shoppers are seeking, while increasing average purchase value, elevating sales. Furthermore, bundling reduces marketing and distribution costs as complementary products are marketed together, streamlining inventory management, and minimizing packaging expenses. It can also be leveraged to address inventory waste by pairing slow-moving items with faster-selling products, creating appealing deals for customers.
Employing various bundling techniques, such as pure bundles, mix-and-match options, or gifting bundles, adds value to products and enhances customer engagement, making it an indispensable strategy for businesses aiming to thrive in competitive markets, especially during this holiday season.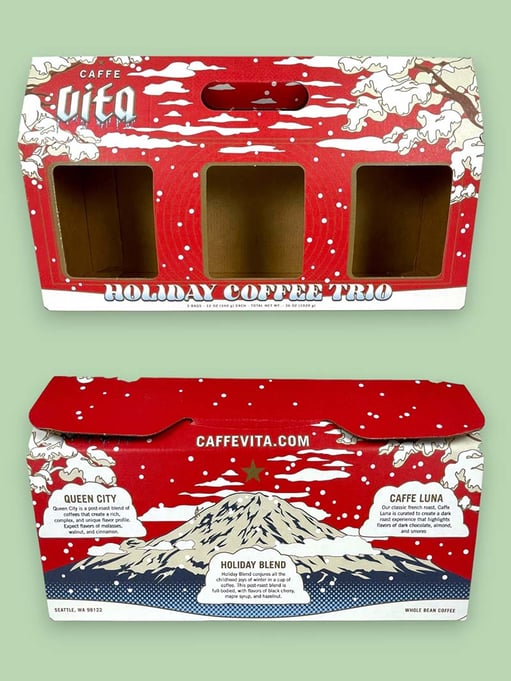 Bundle packaging for client Caffe Vita.
Winning in Retail This Holiday Season
Whether it's a surge in consumer spending, a dominant preference for e-commerce and home delivery, or a widespread hunt for holiday deals, there are promising packaging opportunities for consumer brands this holiday season. Lean on your packaging supplier's expertise and take advantage of consumer trends to stay competitive in this market and provide a memorable brand experience for your customers.
If you are ready to learn more about leveraging digital print, upgrading your e-commerce packaging experience, or utilizing product bundles as a strategy, our experts are here to help, and it's not too late to execute for the 2023 holiday season. Contact us to get started.
3 Ways to Differentiate Your Product Packaging with Digital Print in 2022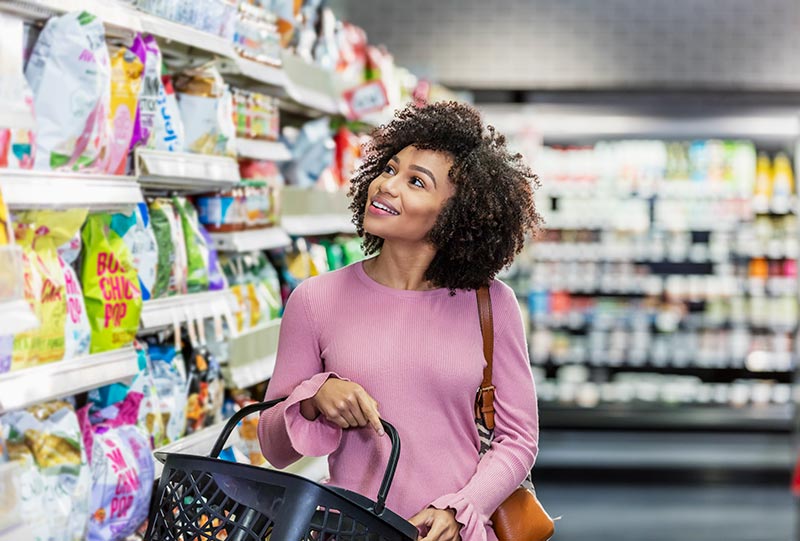 3 Ways to Differentiate Your Product Packaging with Digital Print in 2022
Satisfy consumer demands and meet supply chain challenges with these three ways to differentiate you …
Read Now
What will you learn in Summer Camp's free packaging classes?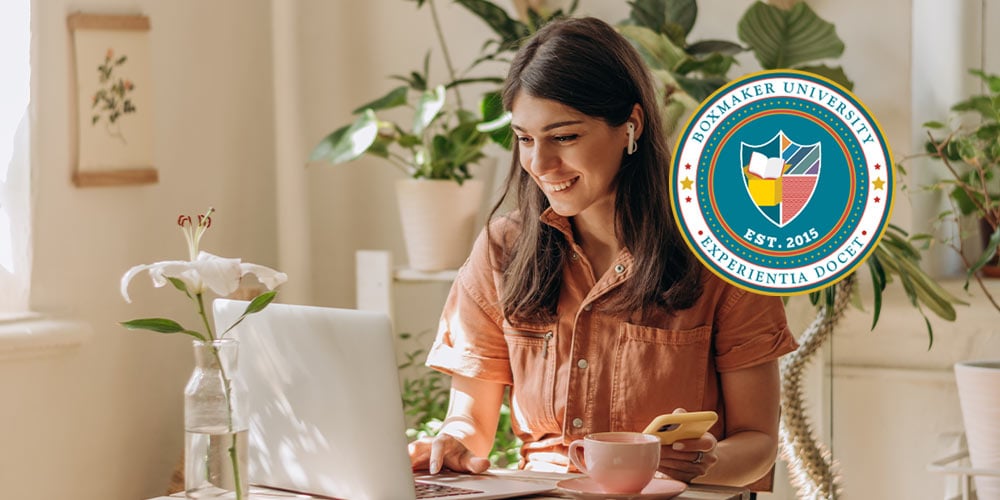 What will you learn in Summer Camp's free packaging classes?
Don't miss BoxMaker University Summer Camp, 5 days of free packaging classes featuring webinars to i …
Read Now
Hemp Brand Drives Online Conversions with SIOC Sample Pack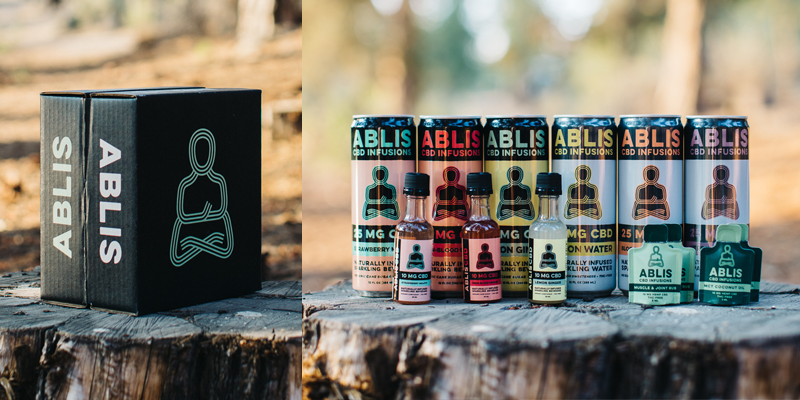 Hemp Brand Drives Online Conversions with SIOC Sample Pack
Learn how Ablis CBD leveraged their partnership with The BoxMaker to create an effective ships-in-ow …
Read Now